GiveBIG!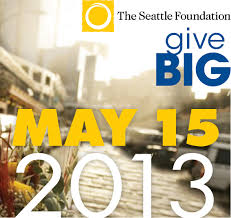 Update: GiveBIG 2013 is done! While we'll know our final total from the Seattle Foundation's stretch pool within the next couple of weeks, the amount straight from our donors today was $3,612, helping us provide our community with classes, programs, scholarships, and more. Thanks to all who donated and helped spread the word!
What is GiveBIG?
We're excited to participate in GiveBIG again this year through The Seattle Foundation. GiveBIG is a one-day, online charitable giving event to inspire people to give generously to nonprofit organizations who make our region a healthier and more vital place to live. Support Hugo House and writers in our community by making your gift online through this link on May 15.
Make your gift up til midnight Pacific Standard Time that day and Hugo House will receive a prorated portion of matching funds (or "stretch") pool from The Seattle Foundation. The more you give, the more we'll receive. See our FAQs below for additional information about the match.
It's a great and easy way to multiply the impact of your gift. For an even greater impact, check with your employer to see if they have a matching gifts program – this can often double your gift! Matching employers include Microsoft, Boeing, Starbucks, the Bill and Melinda Gates Foundation, and Apple.
Remember to check out our donation page here and GiveBIG on the 15th! Thank you for your generous support.
HELP HUGO HOUSE WIN A GOLDEN TICKET!
Throughout GiveBIG, The Seattle Foundation will be doing special drawings for non-profits to receive an additional $1,000. Donors will be randomly chosen by Seattle Foundation from all donations made up to the time of the drawing. This means that the more people donate to us, the better chance we have at winning the Golden Ticket. If your name is drawn, we receive an additional $1,000 and a round-trip airline ticket, courtesy of Alaska Airlines. That means your $50 contribution could become a $1,050 contribution! You'll also receive a $100 gift card, courtesy of GiveBIG's lead sponsor, Starbucks!
So instead of donating once, consider breaking up your donations into smaller increments throughout the day. You'll help us raise more money for scholarships, classes and programs, and you'll increase your chances of winning a $100 gift card from Starbucks!
Learn more about Golden Tickets on The Seattle Foundation's site.
Follow us on Twitter throughout the day for real-time updates on how much we've raised and whether or not we've won that allusive Golden Ticket!
Frequently Asked Questions:
1. Will I still receive membership benefits and a tax receipt for my gift on GiveBIG day?
Yes, you will receive the same benefits for your gift to us through The Seattle Foundation's website on GiveBIG day (May 15) as for a regular gift, with an added bonus for the House–your gift will receive a percentage of The Seattle Foundation's matching funds/"stretch" pool that day.
You'll receive a tax receipt via email immediately from Click & Pledge, the credit card processing company The Seattle Foundation uses, and you receive membership benefits for gifts of $50 and above at the corresponding membership level. (For our membership levels, please go here.)
2. Are gifts made through Hugo House's website for GiveBIG eligible for the match from The Seattle Foundation?
No, in order to qualify, you must make your donation through our page on The Seattle Foundation's website here.
3. How much in matching funds will Hugo House receive from GiveBIG?
The amount of the "stretch" or match depends on the size of the stretch pool and how much is raised in total donations on GiveBIG day. The Seattle Foundation will "stretch" all donations up to $25,000 per donor, per organization.