UW Castalia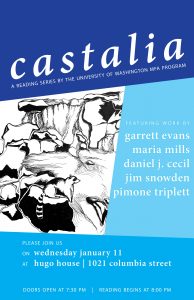 Castalia is a monthly reading series at Hugo House featuring graduate students, faculty, and alumni from the University of Washington MFA program. This evening features first-year poet Garrett Evans, second-year poet writer Maria Mills, second-year prose writer Daniel J Cecil, alumnus Jim Snowden, and faculty member Pimone Triplett.
---
Like many potatoes, Garrett Evans was born in Boise, Idaho. He grew up in an Air Force family, and spent his childhood being uprooted every year or two, only to be replanted on various beige military installments around the world. He has a BA in English and Creative Writing from University of Washington, is fond of Gouda, and is now working toward his MFA in poetry.
Maria Mills is a second-year poet at UW. She's lived her whole life in Washington State, and attended Gonzaga University in Spokane for her undergrad. Maria appreciates any explanation that can be traced back to evolution, and doesn't know what she's going to do after graduation, but suggestions are welcome.
Daniel J Cecil is a writer and editor living in Seattle. His fiction and nonfiction work has appeared in The Heavy Feather Review, HTML Giant, Bookslut, The Review Review, Knee Jerk, The Plant, and The Rumpus. Daniel previously acted as Managing Editor for Versal, the literary & arts journal from Amsterdam and is currently an MFA candidate in fiction at the University of Washington, where he also teaches.
Jim Snowden has been writing fiction for over twenty years. His first published short story appeared in Pulphouse in 1995. He has since published short stories in Mind In Motion, The King's English, MAKE, and elsewhere. His novella, Escape Velocities, was named a notable story in 2004 by the editors of StorySouth. An early version of his first novel, Dismantle the Sun, took the David Guterson award in 2004. The novel went on to be published in 2012. A second novel, The Summer of Long Knives, came out in 2013. Jim is also an award-winning playwright. His treatment of the infamous Wannsee Conference, Dr. Kritzinger's 12 O'Clock, took First Prize at the Bill and Peggy Hunt Playwright's Festival in 2015.
Pimone Triplett is the author of three books of poetry, Rumor, The Price of Light, and Ruining the Picture, as well as co-editor (with Dan Tobin) of the essay anthology, Poet's Work, Poet's Play.  Her most recent book, Supply Chain, is due out next year from the University of Iowa's Kuhl House poetry series. She teaches in the MFA program at UW in Seattle, where she lives with her husband, son, and two matching orange cats who (like all orange cats) were bred by Vikings.