Jonathan Lethem in Conversation with David Shields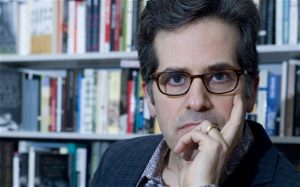 Jonathan Lethem, MacArthur fellow and New York Times best-selling writer, will discuss and read from his current project, a book involving surgery, the body, and mortality. Later, David Shields, New York Times best-selling author of The Thing About Life is That One Day You'll Be Dead, will join him in conversation. The two also shared space in a famous Lethem essay for Harper's called "Ecstasy of Influence."
The event is $10 general admission, $5 for members. The bar will be open and books will be for sale by Elliott Bay Book Company.
---
Jonathan Lethem  is the author of seven novels including Fortress of Solitude and Motherless Brooklyn, which was named Novel of the Year by Esquire and won the National Book Critics Circle Award and the Salon Book Award, as well as the Macallan Crime Writers Association Gold Dagger. He has also written two short story collections, a novella and a collection of essays. His writings have appeared in the New Yorker, Rolling Stone, McSweeney's and many other periodicals.
---
David Shields is the internationally bestselling author of twenty books, including Reality Hunger (named one of the best books of the year by more than thirty publications); The Thing About Life Is That Day You'll Be Dead (NYT bestseller); Black Planet (National Book Critics Circle Award finalist); and, forthcoming November 3, War Is Beautiful: The New York Times Pictorial Guide to the Glamour of Armed Conflict* (in which the author explains why he no longer reads the NYT).