Julene Tripp Weaver: Truth Be Bold—Serenading Life & Death in the Age of AIDS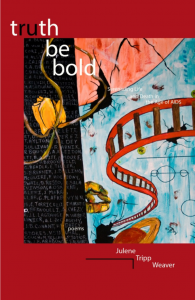 Poet Julene Tripp Weaver celebrates the release of her third collection, truth be bold—Serenading Life & Death in the Age of AIDS (Finishing Line Press). Weaver is a survivor who witnessed firsthand the devastation through the heart of the AIDS epidemic, and this book explores coming out as a long-term survivor, the work Weaver did in AIDS services for over 21 years, remembrances of many who've passed, and the theme of survival.
Poet Jan Steckel calls this body of work, "a powerful, readable, nearly-impossible-to-put-down, boundary-crossing coming-out collection."
David Schmader hosts this celebration that will also bring together poets, writers, and AIDS educators: John Burgess, Julie Cabell, Paul Feldman, Paul Getzel, Kayt Hoch, Bruce Maeder, Pat Miglorie, Tony Radovich, and Erick Seelbach. Each will read a poem from Weaver's work and a Q&A will follow.
This event is free and open to the public. Information on accessibility and getting here can be found on the FAQ page.
---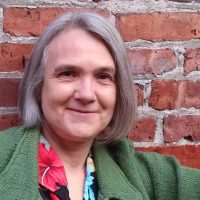 Julene Tripp Weaver is a psychotherapist in Seattle. She worked over 20 years in HIV Services and two of her books reflect this work: truth be bold—Serenading Life & Death in the Age of AIDS (2017), and Case Walking: An AIDS Case Manager Wails Her Blues (2007), each published by Finishing Line Press. She is also the author of No Father Can Save Her (Plain View Press, 2011). Garrison Keillor featured a poem from her chapbook on The Writer's Almanac, and published it in his anthology, Good Poems American Places. Her poems have appeared in Anti-Heroin Chic, Riverbabble, River & South Review, Gertrude, Cliterature, Crab Creek Review, Knock, Off the Coast, The Far Field, The Unprecedented Review, and HIV Here & Now, among other places. She also writes creative nonfiction, and one of her pieces about the night Jimi Hendrix died is published in the anthology In The Words of Women International 2016 (Yellow Chair Press).
---
Host
David Schmader is an essayist and performance artist who's been living and working in Seattle since 1991. His work includes the nationally touring theater pieces Letter to Axl, Straight, and A Short-Term Solution to a Long-Term Problem; the newspaper column "Last Days: The Week in Review" which ran in The Stranger from 1998-2015; the book Weed: The User's Guide, published by Sasquatch Books in 2016; and his intimate relationship with Paul Verhoeven's Showgirls, hosting annotated screenings of the film around the country and providing the commentary track for the Showgirls DVD.
---
Readers
John Burgess grew up in upstate New York, worked on a survey crew in Montana, taught English in Japan and since 1985 has lived in Seattle, where he works corporate communications for an insurance company. He's been a featured poet at festivals, bookstores, art galleries and coffee shops throughout the Northwest. His poetry includes Punk Poems (2005), A History of Guns in the Family (2008), Graffito (2011), and "by Land…" (2015) all from Ravenna Press.
Julie Cabell is an artist and writer turned health care professional, she has volunteered at SASG as a facilitator, trainer, and tree-seller. Residing in Seattle's Capitol Hill neighborhood, Julie enjoys taking walks in Volunteer Park with her buddy Taiko, a Shiba Inu.
Paul Feldman is a person living with HIV/AIDS whose policy work included serving as founding co-chair of our local HIV Planning Council, member and spokesperson for ACT-UP/Seattle, policy and communications director for the National Association of People with AIDS in D.C., and board member of Northwest AIDS Foundation (now Lifelong) and AIDS Housing of Washington (now Building Changes). He currently is working to build a local AIDS memorial and serves as strategic advisor to the Pacific Hospital Preservation & Development Authority.
Paul Getzel is currently the Deputy Director of Lifelong where he has worked for sixteen years in a variety of roles from case manager to Director of the Chicken Soup Brigade Program. Paul and Julene worked together professionally and artistically.
Kayt Hoch is a poet/visual artist living in Seattle. Kayt's poems, and visual works appear in a variety of publications including Pontoon, HazMat, Natural Bridge, ellipsis, Blue Collar Review, Raven Chronicles, and Tin Fish.
Bruce Maeder is a gay dad of two feisty girls, Bruce Maeder can often be heard saying "I happily married the right guy."  Rounding out his hectic household is an above-average dog named Dallas, and an absolutely average hedgehog named Sugar.  All this has been the wind in his sails while working in HIV/AIDS for the past 18 years.
Pat Miglorie is one of the early founders of the Babes Network. She does outreach and education and last year won the Sisterlove award for her leadership on HIV/AIDS.
Tony Radovich is a queer, activist, friend and mentor who has been living with HIV for over 30 years. As a community organizer he has helped to shape the communities we live in, always carrying forward the power and legacy of direct action and leadership. He has been a champion of Peer based recovery support services for over a decade; always meeting people where they are at with dignity and respect. These days he helps to organize low and no income Washingtonians with VOCAL-WA (Voices of Community Activists and Leaders) a community based organization made up of former and active drug users, homeless, and those affected by HIV/AIDS or Hep C, or impacted by the failed war on drugs and mass incarceration.
Erick Seelbach (aka Sister Glo) is a poet and a member of the Sisters of Perpetual Indulgence, the Abbey of St. Joan. For the past 16 years, HIV work led her to many different corners of nonprofit and government settings: as a participant in HIV vaccine and prevention research studies, a leader of various community advisory boards, a graduate of several leadership institutes, an outreach worker, a technical assistance and training provider, a grant writer and reviewer, a conference planner, and more. Erick currently serves as the Executive Director of Pierce County AIDS Foundation.