Lambda Literary Fellows Reading
Six queer writers—each a recipient of a Lambda Literary Emerging Writer Fellowship—will read new work in a fiery evening spanning genres, geography, and gender.
Emceed by Hugo House writer-in-residence Amber Flame, the lineup includes Tennessee Jones (New York), Natalia Vigil (San Francisco), Taylor Johnson (Washington, DC), Molly Thornton (Seattle), Kathleen Nacozy (Seattle), and Elaina Ellis (Bellingham).
---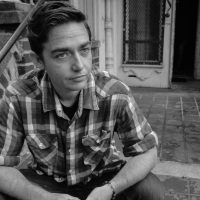 Tennessee Jones
is a Brooklyn-based writer from southern Appalachia. Jones is the author of the short story collection 
Deliver Me From Nowhere
 (Soft Skull Press, 2005). His work has received support from The Fine Arts Work Center (2017), Lambda Literary Foundation (2016), Creative Capital On Our Radar (2016), The Christopher Isherwood Foundation (2009), and Jacob K. Javits Foundation (2008-2010). His residencies include the Lower Manhattan Cultural Council Artist in Residence (2016-17), Philip Roth Writer in Residence at Bucknell University (2013) and the George Bennet Fellow at Phillips Exeter Academy (2010-2011). Jones holds a BA in Religion from CUNY Graduate Center and an MFA in Fiction from Hunter College. He is currently a earning  a dual MA in Divinity and Social Work at Union Theological Seminary and Silberman School of Social work.
---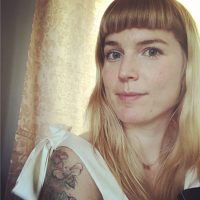 Molly Thornton
is a multigenre writer obsessed with queer love, female friendship, and life's gritty magic. Her work is published or forthcoming in
The Lavender Review
,
baldhip magazine
,
The Leveller
,
Seattle Globalist
, and
They Said
, a collaborative anthology from Black Lawrence Press. She is a graduate of Artist Trust's LitEdge program and a Lambda Literary Emerging Writers Fellow.
---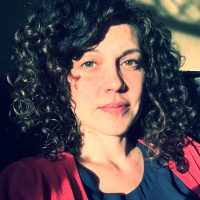 Elaina Ellis
lives in Bellingham, Washington. Her poems appear in
Vinyl Poetry
,
Muzzle Magazine
,
The Iowa Review
,
Poetry Northwest
,
Horsethief
, and beyond. She is a Lambda Literary Fellow and author of the poetry collection
Write About an Empty Birdcage
from Write Bloody Publishing. She holds an MFA from Antioch University Los Angeles and works as an editor at Copper Canyon Press.
---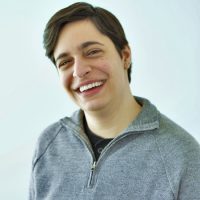 Kathleen Nacozy has worked as a writer for eleven years in comedy, journalism, and criminal justice. She is one-third of the comedy outfit Deep Lez, and teaches improv all over and in her basement; details available upon request.
---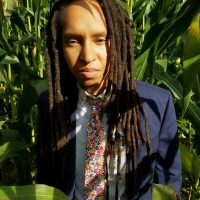 Taylor Johnson is proud of being from Washington, DC. They've received fellowships and scholarships from Callaloo, Cave Canem, Lambda Literary Foundation, VONA, the Fine Arts Work Center, and the Vermont Studio Center. Their work appears in, or is forthcoming from, CALLALOO, the shade journal, Vinyl Poetry, Hayden's Ferry Review, Winter Tangerine, Third Coast, and elsewhere.
---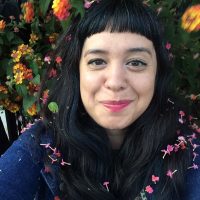 Natalia Vigil is a queer Chicana writer, multimedia curator, and big sister​ of ​six​, born​ ​and raised in San Francisco. Her work has appeared in numerous publications and shows​. She is a ​Lambda Literary Fellow and the proud co-founder of Still Here San Francisco​,​ a performance and community dialogue centering the experiences of ​queer and trans ​people raised in​ ​the city.​ ​She first heard her ​call to write about ​vulnerability and identity​ in​ ​the​ first grade when she wrote​ her poem "You Make Me Glitter Up."
---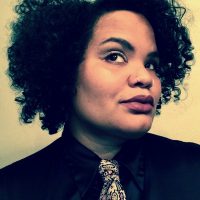 Amber Flame
is a writer, composer and performer, whose work has garnered artistic merit residencies with Hedgebrook, The Watering Hole, Vermont Studio Center, and Yefe Nof. Flame's original work has been published in diverse arenas, including
Winter Tangerine
,
The Dialogist
,
Split This Rock
,
Black Heart Magazine
,
Sundress Publications
,
FreezeRay
,
Redivider Journal
, and more. A 2016 Pushcart Prize nominee, Jack Straw Writer, and recipient of the CityArtist grant from Seattle's Office of Arts and Cultural Affairs, Flame's first full-length poetry collection,
Ordinary Cruelty
, was recently published through Write Bloody Press. Flame joins the Hugo House in Seattle as the 2017 poetry writer-in-residence, and is a queer Black single mama just one magic trick away from growing her unicorn horn.