Lit Crawl 2021 | Rena Priest Reading
Join us Sunday, October 17th, at 8pm for An Evening with Washington State Poet Laureate, Rena Priest.
First, Rena will read her work. Then, after we collect ourselves from awe, she will join host (and Lit Crawl managing director!), Jekeva Phillips, in conversation.
---
About Rena Priest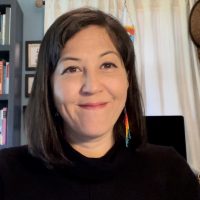 Rena Priest is a poet and an enrolled member of the Lhaq'temish (Lummi) Nation. She has been appointed to serve as Washington State's Poet Laureate for the term of April 2021–2023. She is the recipient of a Vadon Foundation Fellowship, and an Allied Arts Foundation Professional Poets Award. Her debut collection, Patriarchy Blues was published by MoonPath Press and received an American Book Award. Her second collection, Sublime Subliminal is available from Floating Bridge Press. She holds an MFA from Sarah Lawrence College. Learn more and link to publications at renapriest.com.
---
About Lit Crawl 2021
Now in its ninth year, Lit Crawl Seattle 2021 will be a detour from our normal route. We will be partnering with one venue only, our friends at Hugo House, to deliver to you an awesome night of fiction and poetry. Hopefully in 2022 we will return to taking over the whole town!
Join us Sunday, October 17th from 5-8pm for an evening of stellar readings. We will be having back some old favorites like the Youth Poet Laureates and Jack Straw, as well as new friends. Stay tuned for more details, including ticket links!
Lit Crawl is powered by fiscal sponsor Shunpike and is a grant recipient of 4Culture and City of Seattle Office of Arts & Culture.
Lit Crawl Seattle ​is a project of the Litquake Foundation with affiliated Lit Crawls in San Francisco, Manhattan, Brooklyn, Austin, Los Angeles, Iowa City, Seattle, London, Helsinki, Portland, Chicago, Denver, and Cheltenham.
Health and Safety note:
Vaccination cards are required upon entry. All attendees must wear a mask when not actively eating or drinking. Failure to comply may result in removal from the venue and forfeiture of ticket.