Made at Hugo House Final Project Reading
The fellows—Raymond Fleischmann, Ross McMeekin, Jessica Mooney, Michelle Peñaloza, Matthew Schnirman, and Paulette Perhach—will read from the projects they've completed throughout the fellowship year with help from Hugo House staff, instructors, and guest speakers. The event is free. The bar will be open, and books will be for sale.
About the Writers and Projects
Raymond Fleischmann

Raymond Fleischmann received an MFA from Ohio State University, where he completed a collection of short stories and taught a range of composition and creative writing classes. His fiction has appeared or is forthcoming in Iowa Review, Cimarron Review, The Pinch, River Styx, North Dakota Quarterly, and Los Angeles Review, among others. He's also served as assistant editor of The Journal, Ohio State University's literary magazine.
Project Description:
Fleischmann plans on completing his first novel, a manuscript currently titled How Quickly They Disappear. Beginning in June 1941, the novel takes place in a small town in the remote interior of Alaska, where the main character is temporarily living with her husband and ten-year-old daughter.
Ross McMeekin

Ross McMeekin's fiction has appeared or is forthcoming in publications such as Shenandoah, PANK, Hobart, Monkeybicycle, Passages North, and Tin House (blog). His essays have appeared in The Rumpus, Hunger Mountain, and Green Mountains Review. He holds an MFA from Vermont College of Fine Arts. He was born and raised in Seattle, where he now lives with his wife and daughter.
Project Description:
McMeekin will be revising a group of short stories that explore the various geographies of the Pacific Northwest. Like the wild landscape, reality bends, stretches, and quakes, leaving the characters feeling like strangers in the places that were previously most familiar. Forced to find new ways to live, some find homes in community, some in solitude, and others in violence.
Jessica Mooney

Jessica Mooney's short fiction regularly appears in City Arts Magazine, and one of her stories was recently chosen as an Honorable Mention for Glimmer Train's Very Short Fiction Award 2013. She received an MA in international studies with a graduate certificate in global health from the University of Washington, where she studied the confluence of gender and public health in war and post-conflict diaspora communities. In her non-fiction, scientific life, she co-authored a peer-reviewed paper on transgender women and HIV clinical research in the February 2013 issue of Prevention Science. She read in Seattle's 2012 Lit Crawl as a featured guest of APRIL and received a writer-in-residence award as part of the Lady Assassins Writing Collaborative from Storefronts Seattle in 2011.
Project Description:
Mooney will complete a draft of a novel, as yet untitled, that explores the irreverent side of loss through secrets, cons, the unreliability of memory, and a young woman's addiction to psychic hotlines.
Michelle Peñaloza

Michelle Peñaloza grew up in Nashville, Tennessee. Her poetry has appeared or is forthcoming in the Asian American Literary Review, Great River Review, and Bellingham Review, among others. She is a Kundiman Fellow and the recipient of an Oregon Literary Arts Fellowship, the Miriam McFall Starlin Award from the University of Oregon, and scholarships from the Vermont Studio Center, the Napa Valley Writers Conference, and the Bread Loaf Writers Conference.
Project Description:
Peñaloza's project is a chapbook of itineraries: poems based in movement through landscape, poems that engages with journey, as it provokes or provides inspiration. During her time as a Made at Hugo House Fellow, she will ask volunteers to take her on a walk from the Hugo House to a specific place in Seattle where they've had their heart broken. Broken hearts need not only apply to romantic love, but to trauma of any kind that her volunteers are willing to share. She will then write poems in response to these walking conversations to compose a chapbook. In addition to these texts, she will record the paths of these walking conversations from Hugo House onto maps to include in the chapbook. The result will be a literary cartography of heartbreak in Seattle tied indelibly to Hugo House.
Paulette Perhach

Paulette Perhach earned her degree in magazine journalism from the University of Florida. Then she interned at Health and Coastal Living magazines, where she realized she wasn't that much of a magazine person. Then she worked as an education and features reporter in St. Augustine, where she found out she wasn't supposed to be a journalist. Then she joined Peace Corps and found out she wasn't meant to be that good of a person. But she has since discovered that one can sculpt confusion and error into art that is at least in itself beautiful, so that's what she's into now. She has a tech writing job that funds her traveling habit, is applying to MFA programs this year, and is committed to spending the next decade or two practicing until her writing does for others what great writing has done for her.
Project Description:
Perhach will attempt to cram all the bewilderment of two years in the Peace Corps into one long-form essay. An important aspect of this project is to stay true to her experience while respecting the people who loved and watched over her while she was in Paraguay. Then she really will stop talking about it, she swears.
Matthew Schnirman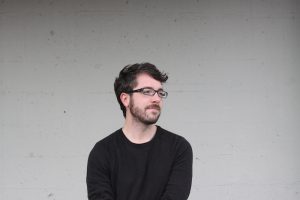 Matthew Schnirman was born and raised on the southeastern coast of Florida, then moved north to Tallahassee where he earned a BA in Creative Writing from Florida State University. After living in Atlanta, London, and Beijing, Matthew moved to the desert and received his MFA in poetry from the University of Arizona, where he also taught poetry workshop courses and served as the associate poetry editor for Sonora Review. He has been nominated for an AWP Intro Journals Award and received a UA Creative Writing Foundation Award. In Tucson, he hosted a summer reading series, LIVE, and taught literature at Pima Community College. He lives and writes in Seattle's Capitol Hill neighborhood.
Project Description:
Schnirman will complete a chapbook titled "American Shot." The collection is a series of escapist poems, guided by an anti-muse through a landscape of cinematic tropes and cultural gestures in order to further explore the desires and flaws of reality.