Marci Calabretta Cancio-Bello Book Launch with Arlene Kim & EJ Koh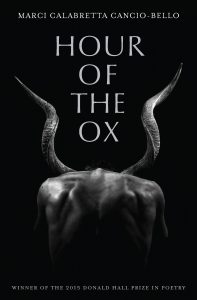 Marci Calabretta Cancio-Bello will read from her debut full-length collection, Hour of the Ox (University of Pittsburgh, Pitt Poetry Series), winner of the 2015 Donald Hall Prize in Poetry.
​Cancio-Bello examines the multiplicity of distance, wanderlust, and grief at the intersection between filial and cultural responsibility. Desires are sloughed off, replaced by new ones, re-cultivated as mythos. These poems offer a complex and necessary new perspective on the elegiac immigrant song.
Cancio-Bello is joined by two Seattle-based poets: Arlene Kim, author of the What have you done to our ears to make us hear echoes? (Milkweed Editions), a finalist for the Washington State Book Award; and E.J. Koh, author of the forthcoming collection A Lesser Love, winner of the 2016 Pleiades Press Editors Prize for Poetry.
Books will be for sale through Open Books: A Poem Emporium.
Cancio-Bello is also teaching a one-day workshop on September 9 on How to Sequence a Prizewinning Poetry Manuscript. For more information and to register, visit the class page.
Praise for Hour of the Ox: 
"Hour of the Ox is a timeless collection written by a poet of exceptional talent and grace, a voice as tough as it is tender. Poignant and beautifully composed, these elegies hum with emotional potency and moved me beyond measure. This immigrant story emerges through the hands, mouths, hearts, mournings, and voices of a family an ocean away and is exquisite, lyrical, and an incredible and rare gift. And then there is the brother who gently haunts this book and who will haunt readers, for just as we walk with our dead, so too does this brother with his sister, who lovingly illuminates his memory. " – Crystal Ann Williams, author of Detroit as Barn
"A striking and rare combination of spare precision and rich details, Hour of the Ox tells a quiet, yet grand and universal tale of place and displacement, loss and renewal, illusion and disillusion. This is one of the most compelling books of poetry I've read in years, not simply because of its seamless craft, but more so because of its pure and urgent voice possessed by that ineffable quality that makes poetry, poetry." —Richard Blanco, Presidential Inaugural Poet, author of Looking for The Gulf Motel
---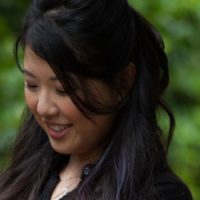 Marci Calabretta Cancio-Bello is the author of Hour of the Ox (University of Pittsburgh, 2016), which won the 2015 Donald Hall Prize for Poetry and the 2016 Florida Book Awards bronze medal, and the chapbook Last Train to the Midnight Market (Finishing Line Press, 2013). She serves as co-founding editor for Print-Oriented Bastards, producer for The Working Poet Radio Show, and a program coordinator for Miami Book Fair. Cancio-Bello is the recipient of a Kundiman Asian American Poetry Fellowship, a John S. and James L. Knight Fellowship, and two Academy of American Poets Prizes. She holds degrees from Florida International University (MFA, Creative Writing) and Carnegie Mellon University (BA, English and Creative Writing). Her work has appeared in Best New Poets, Best Small Fictions, The Georgia Review, The New York Times, and elsewhere.
---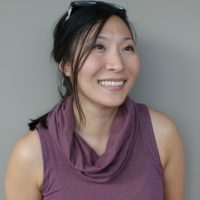 Arlene Kim's first collection of poems, What have you done to our ears to make us hear echoes? (Milkweed Editions), won an American Book Award and was a finalist for the Washington State Book Award. She grew up in Northern Virginia and gradually made her way westward to Seattle, where she now lives, works, and writes.
---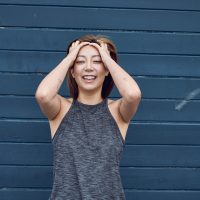 E.J. Koh is the author of A Lesser Love, winner of the 2016 Pleiades Editors Prize. Her poems, translations, and stories have appeared in Boston Review, Columbia Review, Southeast Review, World Literature Today, TriQuarterly, Narrative, The Margins, PEN America, Privacy Policy: The Anthology of Surveillance Poetics (Black Ocean Press, 2014), and elsewhere. She earned her MFA at Columbia University in New York for Creative Writing Poetry & Literary Translation in Korean and Japanese. She is completing her PhD at the University of Washington for English Language and Literature.