Middle Distance: A Tribute to Stanley Plumly
Join us for an evening celebrating the launch of Stanley Plumly's gorgeous last book of poems, published posthumously in August. Plumly enjoyed a long distinguished career as a poet and a teacher, including a term spent teaching at the University of Washington and editing Seattle Review. Middle Distance is a profound meditation on mortality, composed and compiled in the poet's final months. His friends and former students will read from the book, and share reminiscences of this beloved teacher's life.
Readings and tributes will be performed by Linda Bierds, David Biespiel, Michael Collier, Kevin Craft, Anne Price, and Wendy Willis.
RSVP via the "Tickets" link to claim your spot at this free event.
---
About Middle Distance and Stanley Plumly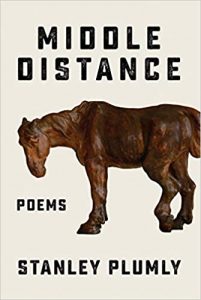 After a diagnosis of cancer, acclaimed poet Stanley Plumly found himself in the middle distance―looking back at his childhood and a rich lifetime of family and friends, while gazing into a future shaped by the press of mortality. In Middle Distance, his final collection, he pushes onward into new territory with extended hybrid forms and revelatory prose pieces. The result is the moving culmination of a long career, a work of fearless, transcendent poems that face down the impending eternal voyage.
Stanley Plumly (1939—2019) authored eleven books of poetry, including the National Book Award finalist and Los Angeles Times Book Prize winner Old Heart. He was also the author of four books of nonfiction, including Elegy Landscapes and The Immortal Evening, winner of the Truman Capote Prize for Literary Criticism. His other honors include the Paterson Poetry Prize and fellowships from the Guggenheim Foundation and the National Endowment for the Arts. He was Maryland's poet laureate from 2009 to 2018.
---