Nathaniel Mackey & Marty Ehrlich: A Collaborative Performance
Nathaniel Mackey has performed his literary work with multiple jazz groups and experimental musicians in partially orchestrated and spontaneous events. On Sunday, September 22, Nathaniel Mackey will engage in a premiere performance with the woodwind musician, Marty Ehrlich. As a multi-instrumentalist, interpreter and improviser, Ehrlich has performed, toured and recorded with a who's who of contemporary composers.
This event is produced in partnership with UW Bothell.
This event is free and open to the public.
About the Performers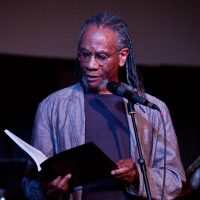 Nathaniel Mackey is a poet and writer whose multiple awards include fellowships from the Guggenheim Foundation and the Foundation for Contemporary Arts; the National Book Award; the Roy Harvey Pearce/Archive for New Poetry Prize; the Stephen Henderson Award from the African American Literature and Culture Society; the Ruth Lilly Poetry Prize; the Bollingen Prize; and a lifetime achievement award from the Library of Congress. From 2001 to 2007, he served as a chancellor of the Academy of American Poets. Mackey is the author of numerous books of poetry, including Nod House (2011), the National Book Award-winning Splay Anthem (2006), Whatsaid Serif (1998), and Eroding Witness (1985), which was chosen for the National Poetry Series. He has published several book-length installments of his ongoing prose work, From a Broken Bottle Traces of Perfume Still Emanate, beginning with Bedouin Hornbook in 1986.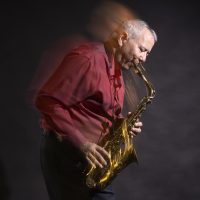 Marty Ehrlich is celebrating over 40 years in the nexus of creative music centered in New York City. Since coming to New York, he has made thirty recordings of his compositions for ensembles including his Dark Woods Ensemble, Traveler's Tales Quartet, Rites Quartet, Marty Ehrlich Large Ensemble, as well as numerous collaborative groups. His most recent recordings are "A Trumpet in the Morning," for 26 musicians, and "Trio Exaltation," with John Hebert and Nasheet Waits. Ehrlich has performed with the Chicago Symphony Orchestra, the BBC Symphony, the New York City Opera, and other classical ensembles. His honors include a Guggenheim Fellowship in Composition, the Peter Ivers Visiting Artist Residency at Harvard University (with painter Oliver Jackson), composition grants from Chamber Music America, the NEA, and NYFA, and a Distinguished Alumni award from NEC. As of this year, he is a professor emeritus of Hampshire College.