A Reading with Nguyen Phan Que Mai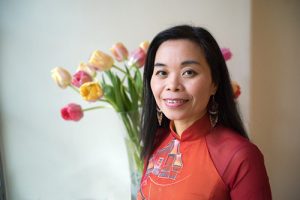 Falling into place at the veritable last minute is what should be a wonderful evening with visiting Vietnamese poet Nguyen Phan Que Mai. She is here from her Brussels home as the author of three award-winning collections, as well as the translator of numerous books into Vietnamese. One year ago, BOA Editions produced her first English-language collection, The Secret of Hoa Sen, translated both by herself and noted poet & translator Bruce Weigl (presented in a bilingual edition).
Co-presented with the Elliott Bay Book Company and the Gardner Center for Asian Art & Ideas.