Novel Nights: A Pilgrimage to Eternity by Timothy Egan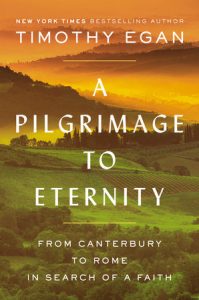 In this fascinating, brand-new memoir, Egan chronicles his travels, mostly on foot but also via car and train, along the Via Francigena, a 1,200-mile medieval route that runs from Canterbury to Rome, where he sought an audience with "a pope with one working lung who is struggling to hold together the world's 1.3 billion Roman Catholics through the worst crisis in half a millennium."
Join author Timothy Egan for special insight into the journey.
Special Guest: Timothy Egan
---

---
Part book club, part celebration: a novel approach to the literary salon.
We write because we were readers first—and our love of reading great literature is what sustains us through long, lonely hours at the writing desk.
But books don't exist only in the solitude of our minds; they come alive in the conversations we have about them.
At Novel Nights, you'll delve into the depths of books new and old in the company of fellow book-lovers and friends—all while supporting Hugo House. To see a full list of all the Novel Nights events, click here.