Novel Nights: Beautiful Ruins by Jess Walter
Join us for our fall fundraiser, Novel Nights! At this event, author Jess Walter will speak about his bestselling novel, Beautiful Ruins, with fellow writer Jim Lynch. Jess's newest book, The Cold Millions, will be available in late October; as part of your ticket, you can purchase a signed copy of that book, which will be mailed to you at that time. This event will be held virtually.
Tickets:
$25 for general admission
$75 for admission plus a signed copy of The Cold Millions
This event takes place in Pacific Time. Tickets can be purchased at the bottom of the page.
---
About Beautiful Ruins

The story begins in 1962. On a rocky patch of the sun-drenched Italian coastline, a young innkeeper, chest-deep in daydreams, looks out over the incandescent waters of the Ligurian Sea and spies an apparition: a tall, thin woman, a vision in white, approaching him on a boat. She is an actress, he soon learns, an American starlet, and she is dying.
And the story begins again today, half a world away, when an elderly Italian man shows up on a movie studio's back lot – searching for the mysterious woman he last saw at his hotel decades earlier.
What unfolds is a dazzling, yet deeply human, roller coaster of a novel, spanning 50 years and nearly as many lives. From the lavish set of Cleopatra to the shabby revelry of the Edinburgh Fringe Festival, Walter introduces us to the tangled lives of a dozen unforgettable characters: the starstruck Italian innkeeper and his long-lost love; the heroically preserved producer who once brought them together and his idealistic young assistant; the army veteran turned fledgling novelist, and the rakish Richard Burton himself, whose appetites set the whole story in motion—along with the husbands and wives, lovers and dreamers, superstars and losers, who populate their world in the decades that follow.
---
About the Author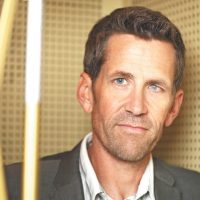 A former National Book Award finalist and winner of the Edgar Allan Poe Award, Jess Walter is the author of six novels, one book of short stories and one nonfiction book. His work has been translated into 32 languages, and his fiction has been selected three times for Best American Short Stories as well as the Pushcart Prize and Best American Nonrequired Reading. His stories, essays and journalism have appeared in Harper's, Esquire, Playboy, McSweeney's, Tin House, Ploughshares, the New York Times, the Washington Post, and many others.
---
About Novel Nights
Part book club, part celebration: a novel approach to the literary salon.
We write because we were readers first—and our love of reading great literature is what sustains us through long, lonely hours at the writing desk.
But books don't exist only in the solitude of our minds; they come alive in the conversations we have about them.
At Novel Nights, you'll delve into the depths of books in the company of fellow book-lovers and friends—all while supporting Hugo House. To see a full list of all the Novel Nights events or buy a series pass, click here.
Novel Nights is sponsored by Anne and Geof Barker, DeNoma Literary Services, and The Elliott Bay Book Company.