Novel Nights: Dancing with Langston by Sharyn Skeeter
Join us for our fall fundraiser, Novel Nights! At this event, author Sharyn Skeeter will speak about her novel, Dancing with Langston—inspired by her grandmother's Langston family and their oral history of Langston Hughes—with fellow writer Donna Miscolta. This event will be held virtually.
This event is sponsored by Michael and Lois Trickey.
Tickets:
$25 for general admission
$75 for admission plus a signed copy of the book
This event takes place in Pacific Time. Tickets can be purchased at the bottom of the page.
---
About Dancing with Langston

Carrie, a business manager who always wanted to be a dancer, has two commitments today. She made a promise to her late father to move Cousin Ella, a former Paris café dancer, from her condemned Harlem apartment to a safe place. She's also committed to catch a flight to Seattle with her husband for his new job. But Cousin Ella resists leaving the apartment where she's had salons with Langston Hughes. She also has a mysterious gift that she wants Carrie to earn. If she does, a revelation about Carrie's father and his cousin Langston Hughes will change her life.
---
About the Author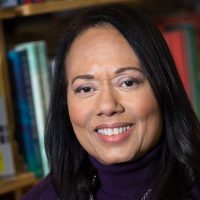 Sharyn Skeeter is a writer, poet, editor, and educator. She was fiction/poetry/book review editor at Essence and editor in chief at Black Elegance magazine. She's taught at Emerson College, University of Bridgeport, Fairfield University, and Gateway and Three Rivers community colleges. She participated in panel discussions and readings at universities in India and Singapore. Sharyn Skeeter has published magazine articles. Her poetry and fiction are in journals and anthologies. She lives in Seattle where she's a trustee at ACT Theatre.
---
About Novel Nights
Part book club, part celebration: a novel approach to the literary salon.
We write because we were readers first—and our love of reading great literature is what sustains us through long, lonely hours at the writing desk.
But books don't exist only in the solitude of our minds; they come alive in the conversations we have about them.
At Novel Nights, you'll delve into the depths of books in the company of fellow book-lovers and friends—all while supporting Hugo House. To see a full list of all the Novel Nights events or buy a series pass, click here.
Novel Nights is sponsored by Anne and Geof Barker, DeNoma Literary Services, and The Elliott Bay Book Company.