Novel Nights: Lovecraft Country by Matt Ruff
Join us for our fall fundraiser, Novel Nights! At this event, author Matt Ruff will speak about his book, Lovecraft Country, and its transition to screen (now an HBO series) with fellow writer Garth Stein. This event will be held virtually.
Tickets:
$25 for general admission
$75 for admission plus a signed copy of the book
This event takes place in Pacific Time. Tickets can be purchased at the bottom of the page.
---
About Lovecraft Country

Chicago, 1954. When his father Montrose goes missing, 22-year-old Army veteran Atticus Turner embarks on a road trip to New England to find him, accompanied by his Uncle George—publisher of The Safe Negro Travel Guide—and his childhood friend Letitia. On their journey to the manor of Mr. Braithwhite—heir to the estate that owned one of Atticus's ancestors—they encounter both mundane terrors of white America and malevolent spirits that seem straight out of the weird tales George devours.
At the manor, Atticus discovers his father in chains, held prisoner by a secret cabal named the Order of the Ancient Dawn—led by Samuel Braithwhite and his son Caleb—which has gathered to orchestrate a ritual that shockingly centers on Atticus. And his one hope of salvation may be the seed of his—and the whole Turner clan's—destruction.
A chimerical blend of magic, power, hope, and freedom that stretches across time, touching diverse members of two black families, Lovecraft Country is a devastating kaleidoscopic portrait of racism—the terrifying specter that continues to haunt us today.
---
About the Author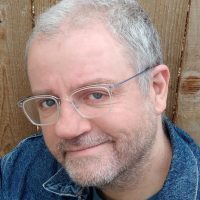 ---
About Novel Nights
Part book club, part celebration: a novel approach to the literary salon.
We write because we were readers first—and our love of reading great literature is what sustains us through long, lonely hours at the writing desk.
But books don't exist only in the solitude of our minds; they come alive in the conversations we have about them.
At Novel Nights, you'll delve into the depths of books in the company of fellow book-lovers and friends—all while supporting Hugo House. To see a full list of all the Novel Nights events or buy a series pass, click here.
Novel Nights is sponsored by Anne and Geof Barker, DeNoma Literary Services, and The Elliott Bay Book Company.