Novel Nights: The Punishment She Deserves by Elizabeth George
Join us for Novel Nights! At this event, award-winning author Elizabeth George will speak about her latest book, The Punishment She Deserves, and her forthcoming novel, Something to Hide, with fellow writer Kevin O'Brien. This event will be held virtually.
Tickets:
This event takes place in Pacific Time. Tickets can be purchased at the bottom of the page.
This event is sponsored by DeNoma Literary Services.
---
About The Punishment She Deserves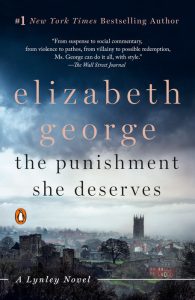 The cozy, bucolic town of Ludlow is stunned when one of its most revered and respected citizens–Ian Druitt, the local deacon–is accused of a serious crime. Then, while in police custody, Ian is found dead. Did he kill himself? Or was he murdered?
When Barbara Havers is sent to Ludlow to investigate the chain of events that led to Ian's death, all the evidence points to suicide. But Barbara can't shake the feeling that she's missing something. She decides to take a closer look at the seemingly ordinary inhabitants of Ludlow–mainly elderly retirees and college students–and discovers that almost everyone in town has something to hide.
A masterful work of suspense, The Punishment She Deserves sets Detective Sergeant Barbara Havers and Inspector Thomas Lynley against one of their most intricate cases. Fans of the longtime series will love the many characters from Elizabeth George's previous novels who join Lynley and Havers, and readers new to the series will quickly see why she is one of the most popular and critically acclaimed writers of our time. Both a page-turner and a deeply complex story about the lies we tell, the lies we believe, and the redemption we need, this novel will be remembered as one of George's best.
---
About the author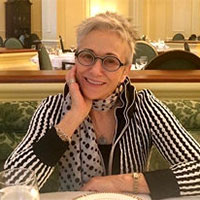 Elizabeth George is the New York Times bestselling author of twenty psychological suspense novels, four young adult novels, one book of nonfiction, and two short-story collections. Her work has been honored with the Anthony and Agatha awards, two Edgar nominations, and both France's and Germany's first prize for crime fiction, as well as several other prestigious prizes. She lives in Washington State.
---
About the moderator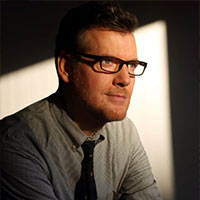 Kevin O'Brien is the New York Times and USA Today bestselling author of over twenty suspense novels. Before his books landed him on the bestseller lists, he was a railroad inspector who wrote at night. He moved from the train tracks to becoming a full-time author in 1997, when his novel, Only Son, was picked up by Reader's Digest and optioned for film. Since then, his books have been translated into fourteen languages. Born and raised in Chicago, O'Brien now lives in Seattle, where he is on the board of Seattle 7 Writers, a collective of bestselling, award-winning authors. His latest novel, The Night She Disappeared, was published summer 2021.
---
About Novel Nights
Part book club, part celebration: a novel approach to the literary salon.
We write because we were readers first—and our love of reading great literature is what sustains us through long, lonely hours at the writing desk.
But books don't exist only in the solitude of our minds; they come alive in the conversations we have about them.
At Novel Nights, you'll delve into the depths of books in the company of fellow book-lovers and friends—all while supporting Hugo House. To see a full list of all the Novel Nights events or buy a series pass, click here.