Novel Nights: The Splendid and the Vile by Erik Larson
Join us for our fall fundraiser, Novel Nights! At this event, renowned author Erik Larson will speak about his latest book, The Splendid and the Vile, with fellow writer Garth Stein. This event will be held virtually.
Tickets:
$25 for general admission
$75 for admission plus a signed copy of the book
This event takes place in Pacific Time. Tickets can be purchased at the bottom of the page.
---
About The Splendid and the Vile

In The Splendid and the Vile, Erik Larson shows, in cinematic detail, how Churchill taught the British people "the art of being fearless." It is a story of political brinksmanship but also an intimate domestic drama, set against the backdrop of Churchill's prime-ministerial country house, Chequers, and his wartime residence, Ditchley, where Churchill and his entourage go when the moon is brightest and the bombing threat is highest. Drawing on a wealth of untapped sources, including recently declassified files, intelligence reports, and personal diaries only now available, Larson provides a new lens on London's darkest year through the day-to-day experience of Churchill and his family.
The Splendid and the Vile takes readers out of today's political dysfunction and back to a time of true leadership, when–in the face of unrelenting horror–Churchill's eloquence, strategic brilliance, and perseverance bound a country, and a family, together.
---
About the Author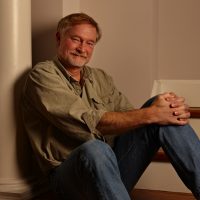 Erik Larson is the author of six New York Times bestsellers, including Dead Wake: The Last Crossing of the Lusitania, which hit no. 1 on the Times list soon after launch, and his newest book, The Splendid and the Vile: A Saga of Churchill, Family, and Defiance During the Blitz. The latter is in large part a domestic drama that examines how Winston Churchill and his "Secret Circle" really went about surviving the German air campaign of 1940-41. Erik's The Devil in the White City is set to be a Hulu limited series; his In the Garden of Beasts is under option by Tom Hanks, for a feature film. Erik lives in Manhattan with his wife, who is a writer and retired neonatologist; they have three grown daughters.
---
About Novel Nights
Part book club, part celebration: a novel approach to the literary salon.
We write because we were readers first—and our love of reading great literature is what sustains us through long, lonely hours at the writing desk.
But books don't exist only in the solitude of our minds; they come alive in the conversations we have about them.
At Novel Nights, you'll delve into the depths of books new and old in the company of fellow book-lovers and friends—all while supporting Hugo House. To see a full list of all the Novel Nights events or buy a series pass, click here.
Novel Nights is sponsored by Anne and Geof Barker, DeNoma Literary Services, and The Elliott Bay Book Company.