Novel Nights: Use the Power You Have by Pramila Jayapal
Join us for our fall fundraiser, Novel Nights! At this event, US congresswoman Pramila Jayapal will speak about her new book, Use the Power You Have: A Brown Woman's Guide to Politics and Political Change, with author Sonora Jha. This event will be held virtually.
Tickets:
$25 for general admission
$75 for admission plus a signed copy of the book
This event takes place in Pacific Time. Tickets can be purchased at the bottom of the page.
---
About Use the Power You Have

In November 2016, Pramila Jayapal (D-WA) was elected to the US House of Representatives, the first Indian American woman to serve in that role. Two years later, the "fast-rising Democratic star and determined critic of President Donald Trump," according to Politico's Playbook 2017 "Power List," won reelection with more votes than any other member of the House. Jayapal, co-chair of the Congressional Progressive Caucus, proved her progressive bonafides when she introduced the most comprehensive Medicare-for-all bill to Congress in February.
Behind the story of Jayapal's rise to political prominence lie over two decades of devoted advocacy on behalf of immigrants and progressive causes—and years of learning how to turn activism into public policy that serves all Americans. Use the Power You Have is Jayapal's account of the path from sixteen-year-old Indian immigrant to grassroots activist, state senator, and now progressive powerhouse in Washington, DC.
Written with passion and insight, Use the Power You Have offers a wealth of ideas and inspiration for a new generation of engaged citizens interested in fighting back and making change, whether in Washington or in their own communities.
---
About the Author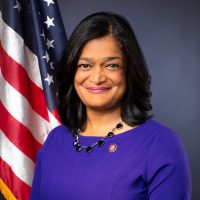 Congresswoman Pramila Jayapal represents Washington's 7th District, which encompasses most of Seattle and surrounding areas. The first Indian American woman in the House of Representatives, Jayapal has spent nearly thirty years working internationally and domestically as an advocate for women's, immigrant, civil, and human rights. She lives in Seattle, Washington.
---
About Novel Nights
Part book club, part celebration: a novel approach to the literary salon.
We write because we were readers first—and our love of reading great literature is what sustains us through long, lonely hours at the writing desk.
But books don't exist only in the solitude of our minds; they come alive in the conversations we have about them.
At Novel Nights, you'll delve into the depths of books in the company of fellow book-lovers and friends—all while supporting Hugo House. To see a full list of all the Novel Nights events or buy a series pass, click here.
Novel Nights is sponsored by Anne and Geof Barker, DeNoma Literary Services, and The Elliott Bay Book Company.