Poetry Rocks!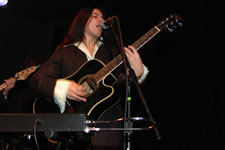 Jose Bold, Sara Edwards, Goldfinch and Jason Dodson of the Maldives take their favorite poems to the natural next step: turning them into songs.
Expect to hear poems from Wallace Stevens, Dean Young, Walt Whitman, Yeats, Keats, Dorothy Parker, Theodore Roethke and more translated into musical beauty. (There are rumors that Jose Bold may riff on Jewel's "A Night Without Armor" to keep irony alive.)
Each musician, great lyricists in their own right, performs original songs, too. Come for the music and stay for the poetry.
Tickets are $10 and can be purchased by calling (206) 322-7030.
About the Musicians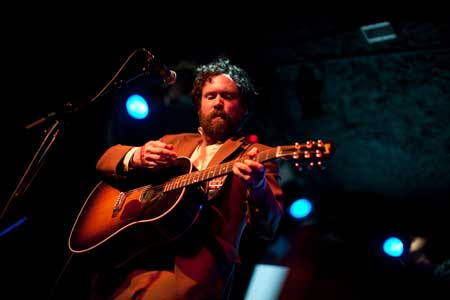 Jason Dodson is a singer-songwriter and frontman for the Maldives, an American roots octet that has been called "the hardest working band in Seattle." His music has been compared to that of Neil Young, the Band and Bonnie "Prince" Billy, and featured at SXSW, Bumbershoot, No Depression Festival, CMJ and the Tractor Tavern. Though he was born in Virginia and has lived all over the United States, Seattle is the only place he calls home (especially Ballard). He's recording a follow up to "Listen to the Thunder," the Maldives' sophomore release on Mt. Fuji Records, in fall, 2010. He loves sushi, potato vodka and anything written by James Crumley.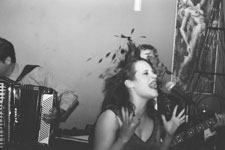 Sara Edwards is an artist and arts administrator. She performs monthly with Honey Castro at the restaurant/lounge Vito's on Madison. This June she will appear in The Blank Department's "Orders of Magnitude" at On the Boards' Northwest New Works Festival. Since 2007, she has been one quarter of The French Project, with Erin Jorgensen, Basil Harris and Charles Smith, performing at Re-bar, Rendezvous, Gainsbourg and the NW Film Forum. She has also performed for/with John Osebold/Jose Bold (Spidermann), Richard Lefebvre (Calamari Union), Sunday Service (NWNW at OtB) and with Ivory in Iceworld. Sara's full-time job is communications and community engagement at 4Culture, including working with Historic Seattle to turn Washington Hall into a cultural venue. She is the arts/performance curator for the 2011 City Arts Festival.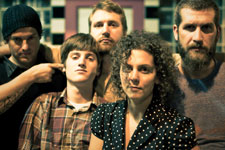 Goldfinch specializes in the neglected art of the duet. Their sound straddles the sad sides of twang and folk, where the lyrics and the warm marriage of Grace Sullivan and Aaron Stevens' vocals are laid bare by simple instrumentation. There is nothing flashy about Goldfinch's style or sound, but it is deeply satisfying.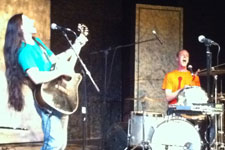 John Osebold and Kirk Anderson are Seattle performers who play instruments and sing pretty together as Jose Bold. In the past few months, they performed "MOUNTAIN" (a dreamlike film with a live song-cycle score) and "Spidermann" (a comic, abstract non-musical) in Seattle and took "Spidermann" to New York a few blocks away from where the big Broadway "Spider-Man" is still not open. They are also part of the art band "Awesome."