Quarantine Write-In with Naa Akua
Writing can help us process our feelings about the unprecedented events unfolding around us. But it can be hard to find the focus and the motivation when we're stressed and overwhelmed. To help get those words flowing, join us at this free weekly write-in via Zoom, where you'll get writing prompts, time to write, and the opportunity to connect with other writers. Whether you want to journal, blog, or produce other writing during this uncertain time, this event will jumpstart your creativity. We'll spend half an hour writing, and half an hour sharing our writing, and discussing issues related to writing during the pandemic. There will be a 15 min optional Q & A at the end of the session.
RSVP at the "Tickets" link for as many sessions as you'd like to attend. You can sign up for them one by one each week, or all at once.
---
About the Facilitator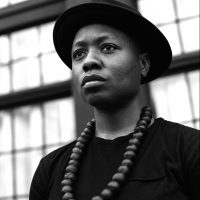 Naa Akua is a 2019 Citizen University Poet-in-Residence, queer poet, emcee, and Gregory Award winning actor. They are a WITS writer-in-residence at Franklin High School and co-facilitator for Young Women Empowered Y-WE Lead mentoring program.