A Reading with Rae Armantrout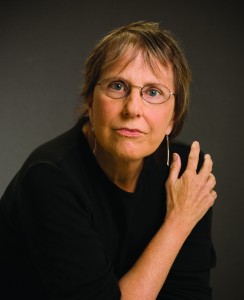 In conjunction with Open Books, Hugo House presents a reading with Pulitzer Prize–winning poet Rae Armantrout, who will be reading from her new collection, Itself (Wesleyan University Press, February 2015).
---
About Rae Armantrout
Just Saying, Rae Armantrout's most recent book of poems, was published by Wesleyan University Press in 2013. Versed (Wesleyan, 2009) received the Pulitzer Prize and the National Book Critics Circle Award. It was also a finalist for the National Book Award.  Next Life (Wesleyan, 2007) was chosen as one of the 100 Notable Books of 2007 by The New York Times. Other recent books include Money Shot (Wesleyan, 2011,) Collected Prose (Singing Horse, 2007), Up to Speed (Wesleyan, 2004), The Pretext (Green Integer, 2001), and Veil: New and Selected Poems (Wesleyan University Press, 2001). Armantrout  received an award in poetry from the Foundation for Contemporary Arts in 2007 and a Guggenheim Fellowship in 2008. She is professor of Poetry and Poetics at the University of California, San Diego. Writing in Poetry magazine, Ange Mlinko has said, "I would trade the bulk of contemporary anecdotal free verse for more incisive, chilling poetry like Armantrout's." A new collection, Itself, is forthcoming from Wesleyan in 2015. Armantrout was a fellow at the Rockefeller Center in Bellagio, Italy, from June 26 to July 24, 2014.
---
About Itself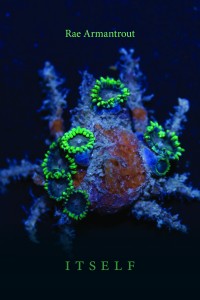 What do "self" and "it" have in common? In Rae Armantrout's new poems, there is no inert substance. Self and it (word and particle) are ritual and rigmarole, song and dance and long-distance call into whatever dark matter might exist. How could a self not be selfish? Armantrout accesses the strangeness of everyday occurrence with wit, sensuality, and an eye alert to underlying trauma, as in the poem "Price Points," where a man conducts an imaginary orchestra but "gets no points for originality." In their investigations of the cosmically mundane, Armantrout's poems use an extraordinary microscopic lens—even when she's glancing backward from the outer reaches of space.
"No poet gets caustic, or self-critical, or sarcastic, as well as Armantrout, whose quick stanzas—half Twitter, half Emily Dickinson—say a lot about how language, money, love, and memory can fail us, and in very little space."
—Publishers Weekly