Solitude Social Club: A Bookish Happy Hour with Sadie Dupuis
Solitude Social Club is Hugo House's 
offering
to
 readers and writers seeking 
connection
 during 
the
 social
 quarantine
.
Each week we'll bring a guest writer to share a drink and discuss how they're finding happiness through art and literature in these distancing times. After the conversation, we'll break out into smaller groups and get to know one another. 
RSVP at the "Tickets" link to join the Zoom conversation, or find us streaming on Facebook Live. 
All events will happen at 5 p.m. PST / 8 p.m. EST.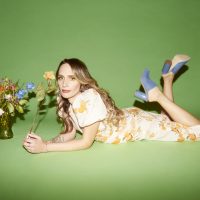 Sadie Dupuis is the Philadelphia-based guitarist, songwriter & singer of rock band Speedy Ortiz, as well as the producer & multi-instrumentalist behind pop project Sad13. Sadie heads the record label Wax Nine, which recently launched its weekly online poetry journal, and holds an MFA in poetry from UMass Amherst, where she also taught writing. Mouthguard, her first book, was published in 2018 (Black Ocean). Find her @sad13.