The Milan Review Release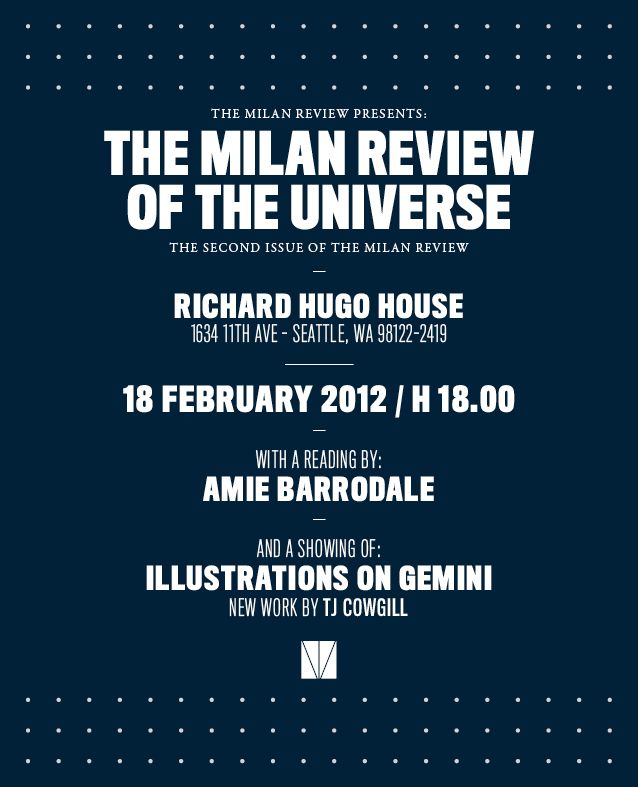 TJ Cowgill will be hosting the release of the latest issue of The Milan Review at Richard Hugo House.
This is the second issue of The Milan Review and it features 224 color pages inside a dark blue cover. Divided in twelve chapters, each named after a sign of the zodiac, each containing a short story and a portfolio by a different artist. The artists and the authors were paired arbitrarily.
The writers: Iphgenia Baal, Amie Barrodale, Chiara Barzini, Blake Butler, Matthias "Wolfboy" Connor, Seth Fried, Amelia Gray, Shane Jones, Robert Lopez, Clancy Martin, Francesco Pacifico, Lynne Tillman.
The artists: Massimiliano Bomba, Carola Bonfili, Milano Chow, TJ Cowgill, Joe DeNardo, Francesco de Figueiredo, Roope Eronen, Frédéric Fleury, Christy Karacas, Taylor McKimens, Brenna Murphy, Toony Navok.
TJ Cowgill will be showing the original drawings he did for the book but more importantly the very funny and talented author Amie Barrodale will do a reading. You don't want to miss this—there will be copies of the book for sale and there's a bar so if you buy the book and say nice things to TJ and Amie, one of them will probably buy you a drink.