UW Bothell MFA Presents: The Writing Life
All your questions answered!
Hosted by the MFA in Creative Writing and Poetics, University of Washington Bothell, this event brings together MFA alumni and community members to discuss how one builds a creative and literary life in the city of Seattle while also making a living. Our panelists will share their insights and field questions on any topic related to the writer's life, from how to get published to which local organizations to get involved in to potential career paths outside academia.
About the Panelists
Corinne Manning is a prose writer and literary organizer whose fiction has been widely published in journals such as Story Quarterly and Joyland. Their essays have been anthologized in Toward an Ethics of Activism and Shadow Map: An anthology of Survivors of Sexual Assault. Once upon a time Corinne founded and organized The James Franco Review, a project that attempted to reimagine the publishing process and address implicit bias in the industry. Corinne received her MFA from the University of North Carolina Wilmington.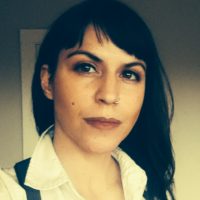 Natalie A. Martínez is a poet, scholar, and curator. She received her PhD in rhetoric, composition, and linguistics from Arizona State University where her research and writing focused on the rhetoric of anger among indigenous and queer Latinx writers and activists and the productive ways those emotions have been mobilized. She was a curatorial member of the Alice Gallery in Seattle from 2016–2019 where she supported the writers-in-residence program. Her poetry has been done in collaboration with Jono Vaughan at the Seattle Art Museum, the Hedreen Art Gallery, and 4Culture's Listen (It's a Sound Show) and has appeared in Nepantla: A Journal of Queer Poets of Color and the art zine La Norda Specialo. Her most recent collaborations include coediting an Indigenous Art Zine with Sara Marie Ortiz and yəhaw̓ curators Asia Tail and Satpreet Kahlon, and writing a found poem rethinking invasive species rhetorics and ecologies in response to the artwork of Markel Uriu.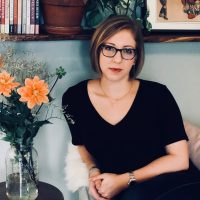 Abi Pollokoff is a Seattle-based writer and book artist with work previously in CutBank, Poetry Northwest, The Spectacle, and Black Warrior Review, among others. She has been the poet-in-residence for the Seattle Review of Books and The Alice. A former reader for the Seattle Review and editor in chief of the Tulane Review, she won the 2012 Anselle M. Larson/Academy of American Poets prize for Tulane University. She is the events manager for Open Books: A Poem Emporium, the managing editor for Poetry Northwest Editions, and a content director in visual communications. Her MFA is from the University of Washington (Seattle). Find her at abipollokoff.com.