UW Castalia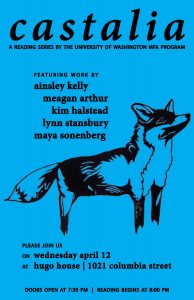 Castalia is a monthly reading series at Hugo House featuring graduate students, faculty, and alumni from the University of Washington MFA program. April Castalia will feature first-year prose writer
Meagan Arthur
, first-year poet
Ainsley Kelly
, second-year prose writer
Kim Halstead
, alumnus
Lynn Stansbury
, and faculty member
Maya Sonenberg
.
---
Megan Arthur is a fiction writer from the Seattle area. Her writing sometimes deals with landscape, altitude, and place, and other times deals with violence, sickness, and psychological classification. She also enjoys exploring cross-genre work and prose poetry. She received her BA in English Rhetoric from Pepperdine University, and is currently pursuing an MFA in Prose at the University of Washington.
Ainsley Kelly is a recipient of an Academy of American Poets Prize and of the Shipsey Poetry Prize. Her work has appeared in Fourteen Hills, Quiddity, The Quotable, The Santa Clara Review, and The Sigma Tau Delta Rectangle, which awarded her the Eleanor B. North Poetry Prize. She was born in San Diego and spent eight years in the San Francisco Bay Area. She is now a first year poet in UW's MFA program.
Kim Halstead came from Indiana but would prefer if you didn't ask her about it. She won a Halloween short story contest in 7th grade and realized that there was something she was good at. When she gets a real-person job she plans to get a cat and a bicycle.
Lynn Stansbury is a retired community medicine physician still active in shock-trauma research. She has two master's degrees in creative writing and is still trying to sell the books that emerged from those efforts. She graduated from the UW Program in 2015.
Maya Sonenberg grew up in New York City and lived in Maine, Connecticut, Rhode Island, California, Oregon, and Paris, France before settling in Seattle, where she teaches in the creative writing program at the University of Washington. She is the author of the story collections Cartographies (winner of the Drue Heinz Prize for Literature) and Voices from the Blue Hotel. More recent fiction and nonfiction have appeared in Fairy Tale Review, Web Conjunctions, DIAGRAM, New Ohio Review, The Literarian, Hotel Amerika, and numerous other places.