UW Castalia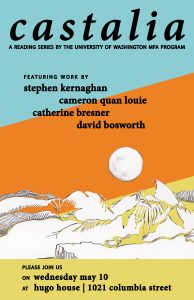 Castalia is a monthly reading series at Hugo House featuring graduate students, faculty, and alumni from the University of Washington MFA program. May Castalia will feature first-year prose writer Stephen Kernaghan, second-year poet Cameron Quan Louie, alumnus Catherine Bresner, and faculty member David Bosworth.
---
Stephen Kernaghan is from Winnipeg, which is the capital of the Canadian province of Manitoba, a city as cold in the winter as it is mosquito-ridden in the summer. Two rivers run through the city, and one or the other of them floods almost every spring. The fall is quite nice, though.
Cameron Quan Louie is from Tucson, Arizona. He currently lives in Seattle, where he interns at Wave Books and does poetry-related things at the University of Washington. His poems have appeared or are forthcoming in Zócalo Public Square, Santa Ana River Review, Foothill: A Journal of Poetry, Gold Man Review, Duende, jubilat, and elsewhere.
Catherine Bresner's poetry has appeared or is forthcoming in The Offing, Heavy Feather Review, Gulf Coast, Passages North, City Arts Magazine, The Pinch, H_NGM_N, Cream City Review, Burntdistrict, Handsome, Yemessee, and elsewhere. She has worked as the coordinating editor for The Seattle Review, a publicity assistant for Wave Books, and she is currently she is the managing editor for BOAAT Press and the production editor for Kirkus Reviews. You can find her work at www.catherinebresner.com.
David Bosworth's fiction, poetry, and literary and cultural essays have been published in numerous journals, including The Agni Review, Salmagundi, Ploughshares, The Public Interest, The Georgia Review, Raritan, Society, and Sinn und Form, the journal of Germany's Academy of the Arts. His collection of short fiction, The Death of Descartes, was selected by Robert Penn Warren for the Drue Heinz Literature Prize and won a special citation from PEN and the Ernest Hemingway Foundation. His novel, From My Father, Singing, was a recipient of the Editors' Book Award. Bosworth's work has been reviewed or discussed in Newsweek, New York Times Book Review, U.S. News and World Report, The Washington Post, and elsewhere. He has given readings, lectures, held workshops, and conducted colloquia at various locales, including Radcliffe and Pomona Colleges, Oregon State University, the University of Pittsburgh, and the New America Foundation.