UW Castalia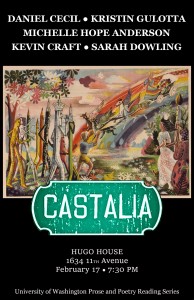 Castalia is a monthly reading series at the Richard Hugo House featuring graduate students, faculty, and alumni from the University of Washington MFA program.
This evening features first-year prose writer Daniel J. Cecil, second-year poet Kristin Gulotta, second-year prose writer Michelle Hope Anderson, alumnus Kevin Craft, and faculty Sarah Downing of the University of Washington Bothell MFA in creative writing and poetics program.
---
Daniel J. Cecil is a writer and editor living in Seattle. His fiction and non-fiction work have appeared in The Heavy Feather Review, HTML Giant, Bookslut, The Review Review, Knee Jerk, The Plant, and The Pavilion. When not writing, Daniel acts as a fiction editor for Versal, the literary & arts journal from Amsterdam. Daniel is currently an MFA candidate in fiction at the University of Washington, where he also teaches.
---
Kristin Gulotta is a UW MFA Candidate in Poetry. Her current collection is focused on 19th century dime museums and the strange characters associated with them. Her work has been published in or at REDzine, Vapid Kitten, Goblin Fruit, and Barrelhouse.
---
Michelle Hope Anderson is an MFA candidate for Prose at the University of Washington. She left her job as a book editor at Sasquatch Books to attend school, and she now takes every opportunity to travel (and write and freelance edit) all over the world — including recent stints in Rome, Nicaragua, Buenos Aires, New York City, Montreal, Friday Harbor, Belfast, and Paris. Her fiction plays with short, lyrical styles, and she likes to think of herself as a prose writer taught by poets. She received the Edith K. Draham prize for Fiction, and her work has been published in Bricolage, Nudge, and InterSections.
---
Kevin Craft lives in Seattle and coordinates the Written Arts Program at Everett Community College. His first book, Solar Prominence (2005), was selected by Vern Rutsala for the Gorsline Prize from Cloudbank Books. He has also edited and published five volumes of the anthology Mare Nostrum, an anthology of Mediterranean-inspired writing. His poems, reviews, and essays have appeared widely in such places as Poetry, The Kenyon Review, New England Review, Alaska Quarterly Review, and The Stranger. A Bread Loaf Scholar in 1996, he has been awarded fellowships from the MacDowell Colony, the Bogliasco Foundation (Italy), the Camargo Foundation (France), 4Culture, and Artist Trust. Craft is the current editor of Poetry Northwest, the region's oldest literary magazine. He served as a judge for the Washington State Book Awards from 2012 to 2014, and was curator of the Jack Straw Writers program for 2015. He has also served as a director of the University of Washington's Creative Writing in Rome Program since 2003. He believes that poems, like good travelers, live in the go-between.
---
Sarah Dowling is the author of two books, DOWN (Coach House, 2014), and Security Posture (Snare, 2009), which received the Robert Kroetsch Award for Innovative Poetry. She has also published a chapbook, Birds & Bees (TrollThread, 2012), and her writing has appeared or is forthcoming in a number of journals including Encyclopedia, Windsor Review, Line, and Matrix. Sarah is an assistant professor at the University of Washington Bothell.