Word Works | Adam Johnson: The Art of Listening—VIRTUAL
Due to the coronavirus, this event will be held virtually.
For his Word Works lecture, National Book Award and Pulitzer Prize-winning fiction writer Adam Johnson will give a talk on writing research-based narratives, in which he'll share stories from the lives of people he's interviewed for his books—including rare individuals who defected from North Korea—and the ways in which their powerful testimonies changed the course of his projects.
After the talk, Johnson will be interviewed onstage by novelist Peter Mountford and take part in an audience Q&A.
---
Adam Johnson is the author of Fortune Smiles, winner of the National Book Award and the Story Prize and a finalist for the Los Angeles Times Book Prize, and The Orphan Master's Son, winner of the Pulitzer Prize, the Dayton Literary Peace Prize, and the California Book Award and a finalist for the National Book Critics Circle Award. Johnson's other awards include a Guggenheim Fellowship, a Whiting Writers' Award, a National Endowment for the Arts Fellowship, and a Stegner Fellowship; he was also a finalist for the New York Public Library's Young Lions Award. His previous books are Emporium, a short story collection, and the novel Parasites Like Us. Johnson teaches creative writing at Stanford University and lives in San Francisco with his wife and children.
---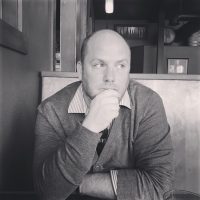 Peter Mountford is the author of the novels A Young Man's Guide to Late Capitalism (2012 Washington State Book Award in fiction), and The Dismal Science (a NYT editor's choice). His work has appeared in the Paris Review, Southern Review, the Atlantic, the Sun, Granta, and the Missouri Review. He is currently on faculty at Sierra Nevada University's MFA program, teaches at Seattle's Hugo House, and is a writing coach and developmental editor with clients around the world.
---
"Real stories like this, human ones, could get you sent to prison, and it didn't matter what they were about. It didn't matter if the story was about an old woman or a squid attack—if it diverted emotion from the Dear Leader, it was dangerous."
―Adam Johnson, from The Orphan Master's Son
---

Word Works craft talks by novelists, essayists, poets, and memoirists focus on writing as process rather than finished product, examining how language works to inspire and provoke new ideas through live close readings of the writer's own or others' work. These talks are designed to apply to writers of all genres as well as illuminate well-known works for avid readers. The talks are followed by an interview with a noted editor, writer, or critic.