Word Works: Domingo Martinez on "Fearlessness"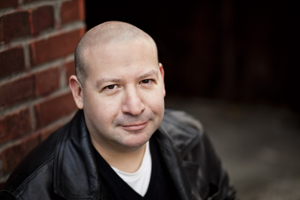 Note: The event date was changed from May 26 to Sunday, May 22, at 3 pm. This event will be held at Elliott Bay Book Company.
Martinez, author of the bestselling memoirs The Boy Kings of Texas and My Heart is a Drunken Compass, is often asked about the potential pain wrought by memoir and coping with hurting people's feelings, especially those of his family members. In this lecture on fearlessness, he will walk attendees through his process of overcoming fear and dealing with the consequences of work. Bruce Reid will conduct a Q&A with Martinez after his talk.
---
Domingo Martinez is the New York Times bestselling author of The Boy Kings of Texas and was a finalist for the National Book Award. The book has been optioned by HBO for an original series through Salma Hayek's production company, Ventanarosa. Martinez's work has appeared in Texas Monthly, The New Republic, Saveur Magazine, and more. He has also appeared on NPR's All Things Considered, This American Life, and The Diane Rehm Show.