Word Works | Tom Perrotta: Laughter Is Only the Beginning
Tom Perrotta, the bestselling author of the novels Mrs. Fletcher, The Leftovers, Little Children, and Election, will discuss his secrets for balancing satire and comedy with psychological realism to create the hilarious and heartbreaking portraits of suburbia that inspired the New York Times to call him "an American Chekhov" and People magazine to write that he's "the rare writer equally gifted at drawing people's emotional maps…and creating sidesplitting scenes."
After the talk, Perrotta will be interviewed onstage by author Jonathan Evison.
---
Tom Perrotta is the author of nine works of fiction, including Election and Little Children, both of which were made into Oscar-nominated films, and The Leftovers, which was adapted into a critically acclaimed, Peabody Award-winning HBO series. His other books include Bad Haircut, The Wishbones, Joe College, The Abstinence Teacher, Nine Inches, and his newest, Mrs. Fletcher. His work has been translated into a multitude of languages. Perrotta grew up in New Jersey and lives outside of Boston.
---
"Not that they would, but if any of the other mothers had asked how it was that Sarah, of all people, had ended up married, living in the suburbs, and caring full-time for a small child, she would have blamed it all on a moment of weakness. At least that was how she described it to herself, though the explanation always seemed a bit threadbare. After all, what was adult life but one moment of weakness after another? Most people just fell in line like obedient little children, doing exactly what society expected of them at any given moment, all the while pretending that they'd actually made some sort of choice."
―Tom Perrotta, from Little Children
---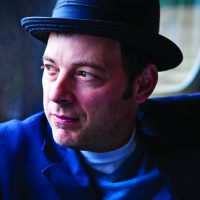 Jonathan Evison is the New York Times bestselling author of All About Lulu, West of Here, The Revised Fundamentals of Caregiving, This is Your Life Harriet Chance!, Lawn Boy, and the forthcoming novels Legends of the North Cascades and Small World.
---
Related Classes
---

Word Works craft talks by novelists, essayists, poets, and memoirists focus on writing as process rather than finished product, examining how language works to inspire and provoke new ideas through live close readings of the writer's own or others' work. These talks are designed to apply to writers of all genres as well as illuminate well-known works for avid readers. The talks are followed by an interview with a noted editor, writer, or critic.