Works in Progress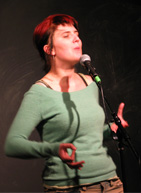 Held on the first and third Monday of every month in the Hugo House Cabaret at 7:00 p.m., Works in Progress is an open mic for all comers. Read your work, meet other writers, and find out what's going on in the literary community. Poetry, fiction, essays, memoirs, plays, unclassified, and unclassifiable work are all welcome.
Applause for all. No judgment. Some content not suitable for children or small animals. Listeners welcome.
---
How Works in Progress Works
Sign-ups begin at 6:30 p.m. Toss your name into one of two jars — the first flight is limited to 10 names with a guaranteed slot, the second flight draws until we run out of names or time. Show up early to get your name into the first half, meet other writers, found literary movements, or launch global conspiracies.
The first name is drawn at 7 p.m. and the reading begins; when the first jar is empty, a break gives time to hobnob and replenish beverages at the open bar. Then words flow again until 9 p.m.
Slots are limited to five minutes, so practice your piece in advance to make sure it doesn't go into overtime.
Admission is free and the bar is open to provide hydration and courage.
Questions? Email welcome@hugohouse.org or post a question on the Works in Progress: Hugo House Facebook group here.