Yoga for Writers
Yoga for Writers (YFW) is a weekly, all-levels yoga class at Hugo House on Tuesdays from 5:30pm-6:30pm. Looking for a way to clear your mind, move your body, relax your nervous system, and get your creative juices flowing again? This is the place. Whether you've never done yoga before or are a regular practitioner, there will be options available to you in this class. You'll leave feeling re-energized, so you can do your best work off the mat. Bring: yourself, and a yoga mat. That's it!
Pay what you like! All donations support Hugo House.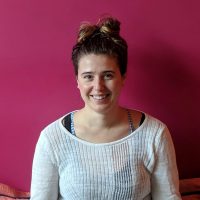 Lucy, MFA, RYT 200, is a poet and yogi. She believes yoga is for every body. Lucy opens and closes her classes with a poem, filling the in-between with a sweet blend of strengthening and restorative poses, and a joke or two. You'll leave her classes feeling revived, and rooted in your native creative power.