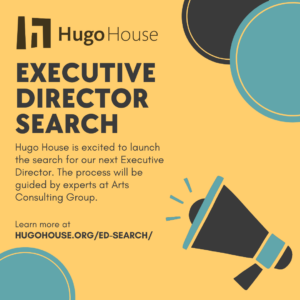 Hugo House is excited to announce the search for the next permanent Executive Director to lead the organization into its future.
The Executive Director will be the public spokesperson for the organization, maintaining and cultivating relationships with community partners. They will create an organizational culture of optimism and possibility that inspires great writing. With a deep commitment to equity, diversity, inclusion, and access, the Executive Director will steward Hugo House in becoming an anti-racist institution that serves people of all ethnic backgrounds, gender identities, abilities, and interests, and where people from all backgrounds feel welcome and a true sense of belonging. Since March 2021, Rob Arnold has served as the Interim Executive Director of Hugo House.
Hugo House is working with Arts Consulting Group to guide this process with a search committee made up of community, staff, and board members.