Akwaaba: Healing a Queer Black Soul
Akwaaba is a one-person show by artist Naa Akua that takes the viewer on a personal journey into the realization that there is no complete resolve to the full healing of oneself, but always a beginning, a start to the process, and a determination. Akua creates a space of expression through poetry, sound, ritual, and monologue, saying Akwaaba (welcome) to the stories of the when, what, why, and how of their Queer Black Healing Process.
After the show, there will be an audience Q&A with Naa.
This event will take place virtually. Tickets cost $20 general admission; $16 for Hugo House members; and $5 for students or anyone who is financially disadvantaged. Tickets can be purchased at the bottom of the page.
For tickets to the June 25 event, click here. 
---
About the Artist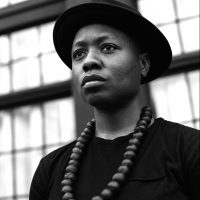 Naa Akua is the 2019 Citizen University Poet-in-Residence, a queer poet, emcee, and a Gregory Award winning actor. They are a WITS writer-in-residence at Franklin and Roosevelt High School and a co facilitator for Young Women Empowered Y-WE Lead program. They have also been a cast member of the groundbreaking play Queer. Mama, Crossroads written by Anastacia-Reneé and directed by Anastacia-Reneé and Aviona-Rodriguez Brown. Akua has also been a part of Sound Theater's Gregory Award winning production of Citizen, An American Lyric written by Claudia Rankine and produced by Jay O'Leary. When Akua is not writing and performing they are facilitating Sound Healing sessions which focus on breathing, being in the body and meditation.