Anca Szilágyi: Daughters of the Air | Book Launch
Hotel Sorrento (900 Madison Street) | Free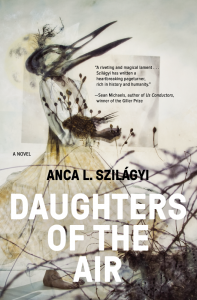 Seattle-based writer Anca Szilágyi reads from her debut novel, Daughters of the Air. Corinne Manning, another beloved local writer, will also read and facilitate the onstage Q&A.
"The whole city is aflutter with great expectations," wrote Paul Constant of Szilágyi's debut novel, Daughters of the Air (Lanternfish Press). We couldn't agree more. A searing tale of love, loss, estrangement, and coming of age, the story of Tatiana "Pluta" Spektor is an unflinching exploration of the personal devastation wrought by political repression, told with haunting fabulist imagery.
Pluta is a mostly happy, if awkward, young girl until her sociologist father was disappeared during Argentina's Dirty War. Sent a world away by her grieving mother to attend boarding school outside New York City, Pluta wrestles alone with the unresolved tragedy and at last runs away: to the streets of Brooklyn in 1980, where she figuratively—and literally—spreads her wings.
"Anca L. Szilágyi writes with an elegant economy that gives her work a moving urgency and a lushness that is uplifting. Crafting characters and moments of unexpected brilliance, Anca weaves narratives imbued with an original beauty. A pure delight." – Chris Abani, author of The Secret History of Las Vegas and Sanctificum
"[Szilágyi's] work is like a fairy tale—the sort of thing you'd find handwritten on a tiny scroll . . . under a mushroom in the middle of a forest on the longest day of the year." – Paul Constant, The Seattle Review of Books
"A riveting and magical lament—for childhood, for the lost, and for the disappeared. Szilágyi has written a heartbreaking page-turner, rich in history and humanity." – Sean Michaels, author of Us Conductors, winner of the Giller Prize
"Pluta, the teenage heroine of Daughters of the Air, flees from one dark place to others darker still, from one unfulfilled promise of escape to another. Yet, in art, in opera, in the lusciousness of Anca Szilágyi's language, she soars." – Maya Sonenberg, author of Voices from the Blue Hotel and Cartographies
"[Daughters of the Air] offers a moving and memorable exploration of how the traumas of history burrow into individuals and fester, sprouting strange and sometimes even lovely phenomena." — Peter Mountford, author of A Young Man's Guide to Late Capitalism and The Dismal Science
Books will be for sale through Elliott Bay Book Company
---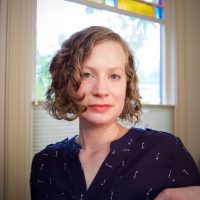 Anca Szilágyi grew up in Brooklyn. Her writing has appeared in the Los Angeles Review of Books, Electric Literature, Gastronomica, and Fairy Tale Review, among other publications. She is the recipient of the inaugural Artist Trust / Gar LaSalle Storyteller Award, a Made at Hugo House fellowship, and awards from the Vermont Studio Center, 4Culture, the Seattle Office of Arts & Culture, and the Jack Straw Cultural Center. The Stranger hailed Anca as one of the "fresh new faces in Seattle fiction." She lives in Seattle with her husband.
---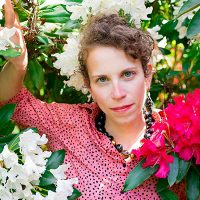 Corinne Manning's fiction has appeared in Story Quarterly, Calyx, Vol 1 Brooklyn, Moss, The Bellingham Review, Southern Humanities Review, and is forthcoming in Wildness from Platypus Press. Additional stories and essays have appeared in Literary Hub, Vol 1 Brooklyn, Drunken Boat, Arts & Letters, anthologized in Shadow Map: An anthology of Survivors of Sexual Assault (CCM Press), and have been recognized as notable in The Best American Series. Corinne has received grants and fellowships from 4 Culture, Artist Trust, and the MacDowell Colony and founded The James Franco Review, a project on visibility and reimagining the publishing process.