Black on Craft: Gabriel Teodros and Nikkita Oliver
Black on Craft: Conversations on How to 

Get By

 Thrive
Curated and hosted by Hugo House poet-in-residence Amber Flame, Black on Craft is a space to celebrate Black excellence and hear Black writers and creatives discuss the hows, whys, and methodologies of their artistic practice.
For the first Black on Craft event, join us for a conversation between Amber, musician and writer Gabriel Teodros, and community organizer and poet Nikkita Oliver.
Cost: $10/general, $8/members, $5/students.
About the Speakers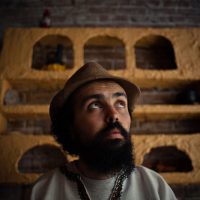 Gabriel Teodros is a musician and writer from South Seattle who first made a mark with the group Abyssinian Creole, and reached an international audience with his critically acclaimed solo debut Lovework. He has been setting stages on fire ever since, all across the US, Canada, Mexico, Cuba, Ethiopia, and South Africa; often in combination with workshops on creative writing, music, history, science fiction and media literacy.
His latest solo offering History Rhymes If It Doesn't Repeat (A Southend Healing Ritual) is a collective exercise in moving through trauma that was made completely in the months of August–September 2018, and produced by long-time collaborator (and three-time Juno Award winner) Moka Only. The full-length therapy session includes features from nearly every phase of Teodros' creative life, including Khingz (of Abyssinian Creole), Meklit (of CopperWire), Shakiah, Otieno Terry, Nikkita Oliver, Essam, Mikaela Romero, Rell Be Free, Julie-C and El Dia.
History Rhymes… is Teodros' first album since Evidence Of Things Not Seen released in 2014, a James Baldwin-inspired collaboration with Aotearoa-based producer SoulChef that was described by critics as Teodros' strongest album yet, after a decade of notable releases that also include Colored People's Time Machine, Children Of The Dragon, and CopperWire's Earthbound.
In 2015, Teodros made his speculative fiction debut with a story published in Octavia's Brood: Science Fiction Stories from Social Justice Movements, and in 2016 he graduated from the Clarion West Writers Workshop for Speculative Fiction. His writing has also been published by The Feminist Wire and Okayafrica.
Teodros is also currently active as a DJ on KEXP 90.3 FM in Seattle.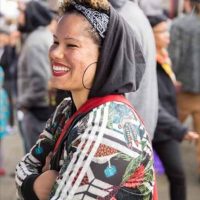 Nikkita Oliver is a Seattle-based creative, community organizer, abolitionist, educator, and attorney. Working at the intersections of arts, law, education, and community organizing, she strives to create experiences which draw us closer to our humanity. Her work asks us to engage what we see happening now and to imagine what we hope to see in the future.
As a poet, musician, and teaching artist she aims to cultivate spaces where community can explore our creative gifts and discover our personal and collective power to build the world we most need to see. Nikkita is also a case manager for Creative Justice; a community arts project aimed at transforming the criminal legal system and providing space for young people to be self-empowered and self-determined.
She is the cocreator with Nikki Etienne and Dj Rise of the Ringside & the Revolutionary Poets quarterly poetry slam & artist showcase. She has opened for Cornel West and Chuck D of Public Enemy, performed on The Late Night Show with Stephen Colbert, and featured on the Breakfast Club and KUOW's Week in Review.
Her writing and poetry has been published in the Moss, South Seattle Emerald, Crosscut, the Establishment, Last Real Indians, the Seattle Weekly, and The Stranger. And she self-published her first collection of poetry, pebbles in my shoes, in December 2017.
She organizes with No New Youth Jail and the Seattle Peoples Party. Nikkita was the first political candidate of the Seattle Peoples Party running for Mayor of Seattle in 2017. The Nikkita Oliver for Mayor campaign narrowly missed the general election by approximately 1,100 votes; coming in third of 21 candidates. The campaign was declared third-party and accepted no corporate donations. With over 1,000 the volunteers they knocked on 22,000 doors, raised $130,000 and changed the political landscape of Seattle politics.
---
About the Moderator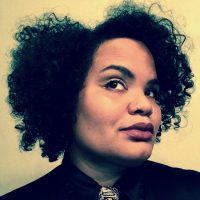 Amber Flame is a writer, composer, and performer whose work has garnered residencies with Hedgebrook, The Watering Hole, Vermont Studio Center, and YEFE NOF. Flame's original work has been published in diverse arenas, including Def Jam Poetry, Winter Tangerine, The Dialogist, Split This Rock, Black Heart Magazine, Sundress Publications, FreezeRay, Redivider Journal, and more. A 2016 Pushcart Prize nominee, Jack Straw Writer, and recipient of the CityArtist grant from Seattle's Office of Arts and Cultural Affairs, Amber Flame's first full-length poetry collection, Ordinary Cruelty, was recently published through Write Bloody Press. Amber Flame is a queer Black single mama just one magic trick away from growing her unicorn horn.