Book Launch: The World Is All That Does Befall Us by Thomas Walton
Please join us in the Salon for the launch of Thomas Walton's new book, The World Is All That Does Befall Us (Ravenna Press, 2019), and a celebration of grief and Gertrude Stein. Readers include Thomas Walton, Amaranth Borsuk, John Burgess, and Nadine Antoinette Maestas. Ivory Smith and Eryn Young will perform musical interpretations of Stein's masterpiece Tender Buttons.
About the Book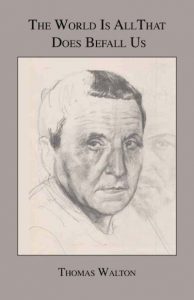 The World Is All That Does Befall Us is a book of mourning unlike any other. It is an extraordinary attempt to write about loss while resisting the sentimentality so common in memoirs about grief today. It weaves together various voices: the tender and the hostile, the sacred and the scatological, the solemn and the hysterical, the definitive and the confused. The book plays these discordant elements against each other in an almost alchemical attempt to achieve the impossible: the end of grief, once and for all.
---
About the Performers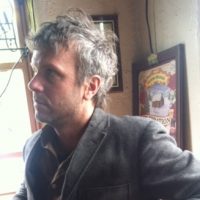 Thomas Walton is the author of the lyric essay, The World Is All That Does Befall Us (Ravenna Press, 2019); a literary mosaic written in collaboration with Elizabeth Cooperman, The Last Mosaic (Sagging Meniscus Press, 2018), and a book of seventeens, All the Useless Things Are Mine (forthcoming from Sagging Meniscus in spring, 2020). He is one of three editors of the bilingual poetry anthology Make It True Meets Medusario (Pleasure Boat Studio, 2019). He is also the author of the micro chapbook, A Name Is Just A Mane (Rinky Dink Press, 2016). His work has been published in numerous journals, including ZYZZYVA, Delmar, Bombay Gin, Pontoon, Stringtown, and others. He lives in Seattle, where he is founding editor of PageBoy Magazine, and runs what his daughter calls "The Overprotective Lecture Series."
Amaranth Borsuk is a poet, scholar, and book artist working at the intersection of print and digital media. Her most recent volume is The Book (MIT Press, 2018), an exploration of a technology we think we know intimately. She has collaborated on installations, art bookmarklets, and interactive works, and is the author of five books of poetry, most recently Pomegranate Eater (Kore Press, 2016). She teaches in the School of Interdisciplinary Arts and Sciences at the University of Washington Bothell and serves as Associate Director of the MFA in Creative Writing and Poetics.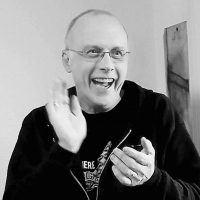 John Burgess grew up in upstate New York, worked on a survey crew in Montana, taught English in Japan, and since 1985 has lived and worked in Seattle. Past glories include: 2006 Jack Straw writer; co-founder of the original Burning Word Festival; 2008 Words' Worth curator for the Seattle City Council; and past board president at Hugo House. He's a coinstigator with the Band of Poets. He has five books of poetry, some with maps and drawings, from Ravenna Press: Punk Poems (2005), A History of Guns in the Family (2008), Graffito (2011), "by Land…" (2015), and 1977 (2018).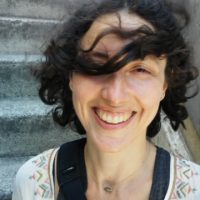 Elizabeth Cooperman is coeditor (with David Shields) of the anthology Life Is Short—Art is Shorter (Hawthorne Books, 2014) and coauthor with Thomas Walton of The Last Mosaic, a poetic guidebook to Rome. Her work has appeared in Writer's Chronicle, Seattle Review, 1913: A Journal of Forms, and other journals. She's attended the Ragdale Foundation Residency, as well as 360 Xochi Quetzal Residency Program in Chapala, Mexico, as an artist-in-residence. Elizabeth is art director at PageBoy Magazine and teaches sporadically as an adjunct professor in the University of Washington's English department.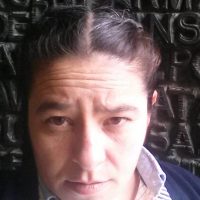 Nadine Antoinette Maestas is a poet's poet and believes that the empire of the sentence is an extremely oppressive totalitarian regime. She prefers the company of poems so much that she would rather read a bad poem than a good novel. She teaches creative writing and literature in San Francisco and New Hampshire, has facilitated writing workshops through Youthspeaks, and has helped to pioneer poetry workshops in several public schools in California and Michigan. She coedited the poetry anthology Make It True: Poetry from Cascadia (Leaf Press, 2015). You can find her poems published in Pageboy Magazine, Lyric &, The Germ, Poor Mojo's Almana(k), Really Serious Literature, and Make It True Meets Medusario.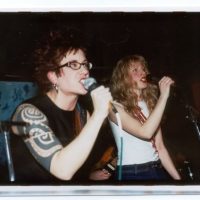 Ivory Smith and Eryn Young grew up singing together. Their projects include: Swallough (an a cappella duo created in 1994), Bloodbunny (an art-pop band w/Tim Young that rocked from 1999–2003), and Foot in Mouth (a performance art ensemble which they codirected with modern dance choreographers Amelia Reeber and Alice de Muizon from 2001 to 2005). Eryn now lives in LA where she composes film scores, and Ivory is a Seattle-based sound designer. They perform together about once a year, and this will be the once of 2019.