Bushwick Book Club: Original Music Inspired by Roxane Gay's Bad Feminist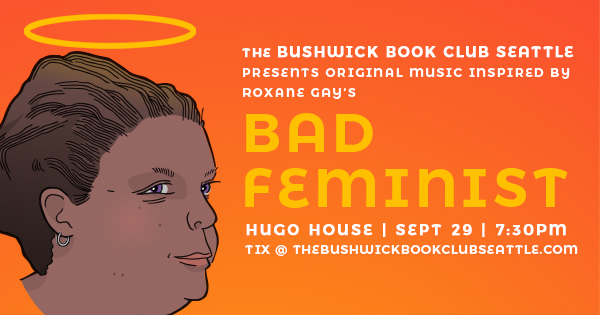 The Bushwick Book Club Seattle and Town Hall Seattle present an evening of original music inspired by Roxane Gay's essays in Bad Feminist.
Irreverent and fearless, Roxane Gay's landmark essay collection Bad Feminist lays bare her "mess of contradictions" with bold takes on everything from the Hunger Games to Trayvon Martin.
Published in 2014, Bad Feminist is a collection of essays relating to politics, criticism, and feminism from a vital and influential voice across scenes and disciplines. Time Magazine hailed the work as "a manual on how to be human" while praising Gay as a "gift that keeps on giving."
Tickets: $10
---
In eight previous seasons, The Bushwick Book Club Seattle has hosted over 300 individual performers writing and debuting original music inspired by literature. "New and innovative work that surprises and delights," is how one local author describes the Bushwick experience, while another librarian calls it "a brilliant way to expand anyone's appreciation of words." The Bushwick Book Club Seattle and STYLE: Songwriting Through Youth Literature Education are the twin arms of Bushwick Northwest, a federal 501(c)(3) non-profit arts organization.