Bushwick Book Club: The Hitchhikers Guide to the Galaxy by Douglas Adams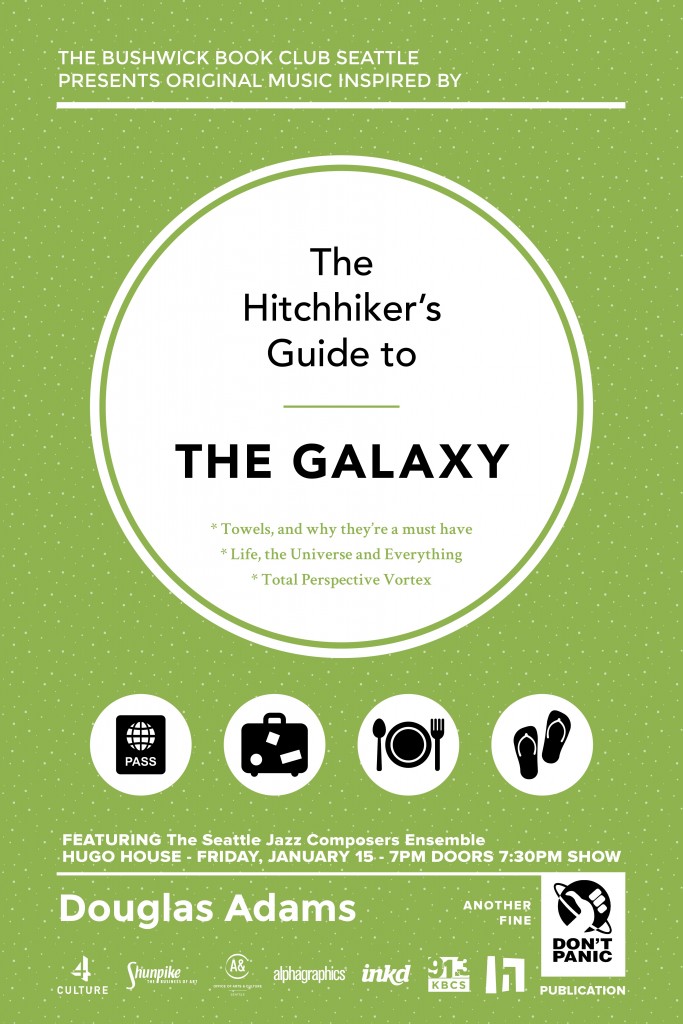 You will see The Infinite Improbability Drive in full action as performers from all over the galaxy will perform music inspired by the book. The Seattle Jazz Composers Ensemble will be backing these wonderful musicians up with full band and small orchestra. Don't forget your towel and whatever you do, Don't Panic!
Bushwick Artists include: 
Evan Peterson
Emmett Montgomery
Del Rey
Nick Foster
Reggie Garrett
Julia Massey
Nate Bogopolsky
Robert Roth
Michael Owcharuk
Don Hopwood/Geoff Larson
Tim Kennedy
and featuring The Passenger String Quartet
Presented by: The Bushwick Book Club Seattle, Seattle Jazz Composers Ensemble, and Hugo House. 
Bushwick Book Club Seattle is not your run of the mill book club.  Much like any, we act upon the urge to read and to have discussions about what we read.  But we found that this was not enough for us.  When we read books, we also want to write songs about them.  And when we write songs, we like to perform them for an audience.  Our mission is to deliver literature, music, and songwriting to the Seattle community while building the next generation of musicians and readers.
Tickets: In advance $20, $15 for Members of Hugo House or Bushwick Book Club; $25 at doors.