Bushwick Book Club: The Works of Shakespeare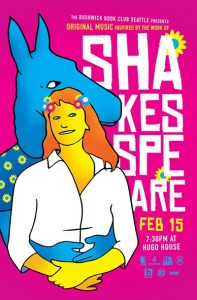 Original music inspired by the works of Shakespeare.
The Bard at last! Inspiration, invention and imagination abound in the world's singlemost celebrated literary canon – and, at last, it will be drawn upon for a night of original music inspired by Shakespeare's legendary work.
"He breathed upon dead bodies and brought them into life. Nor sequent centuries could hit Orbit and sum of Shakespeare's wit." – Ralph Waldo Emerson
Tickets: $10
---
The Bushwick Book Club Seattle announces its tenth season presenting concerts that feature original music inspired by literature. Each event showcases a lineup of local, professional musicians and artists each offering a fresh response to that evening's source text along with extras like an audience quiz, short film, or scholarly introduction. The Bushwick Book Club Seattle and STYLE: Songwriting Through Youth Literature Education are the twin arms of Bushwick Northwest, a federal 501(c)(3) non-profit arts organization.