Cheap Wine & Poetry: Ten-Year Anniversary

It's hard to believe Cheap Wine & Poetry has been giving you words—and cheap booze—for ten years now, but we have. Now it's time to celebrate!
For the ten-year anniversary, we're getting a little wild and splitting the show in two: one part Cheap Wine & Poetry, one part Cheap Beer & Prose. Robert Lashley and Imani Sims represent for the poets, and Suzanne Morrison and David Schmader bring the prose. No matter who's reading, we'll have both wine and PBR for $1.
But that's not all the wildness: this month we skip the open mic—instead, the Drop Shadows, Cheap series host Jeanine Walker's band with her partner Steve Mauer, play some new and old jams.
Plus, we'll have a slideshow of photos from the last decade of readings (put together by Steve Barker), so you can all make fun of Brian's ultra-'90s goatee.
Like we said, IT'S A CELEBRATION!
---
About the Writers
A semi finalist for the PEN/Rosenthal fellowship, Robert Lashley has had poems published in such Journals as Feminete, No Regrets, Your Hands, Your Mouth, NAILED, Drunk In A Midnight Choir, and The Cascadia Review. His work was also featured in "Many Trails To The Summit," an anthology of Northwest form and Lyric poetry, and Make It True, an anthology of innovative Cascadia poetry. His full length book: "The Homeboy Songs," was published by Small Doggies press in April 2014.
---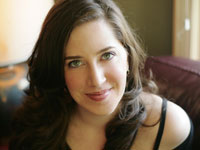 Suzanne Morrison's first memoir, "Yoga Bitch: One Woman's Quest to Conquer Skepticism, Cynicism, and Cigarettes on the Path to Enlightenment" (Random House/Three Rivers Press) was a Crosscut Best Northwest Book of 2011 and has been translated into six languages. "Yoga Bitch" had its start as a long-running one-woman show of the same title, which played in New York, London, and across the United States. A recipient of 4Culture and Artist Trust grants, Suzanne is at work on a new memoir, "Your Own Personal Alcatraz," about coming of age on an island near Seattle and an early romantic entrapment. Her fiction and essays have been published or are forthcoming in Litro, Salt Hill, Printers Row at the Chicago Tribune, The Huffington Post, Crosscut, Books for Better Living, and the essay anthology, Going Om.
---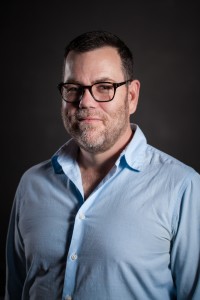 David Schmader is a writer and performer who's been living and working in Seattle since 1991. His solo plays include "A Short-Term Solution to a Long-Term Problem," "Straight," and "Letter to Axl," which he's performed in Seattle and across the U.S. He writes the pop culture and news column "Last Days" for The Stranger.
---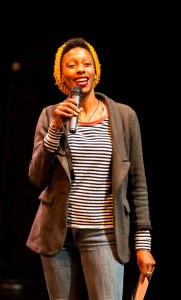 Imani Sims is a stiletto loving Seattle native who spun her first performance poem at the age of fourteen. Since then, she has developed an infinitely rippling love for poetry in all of its forms. She believes in the healing power of words and the transformational nuance of the human story. Imani is the founder of Split Six Productions (splitsix.com), an interdisciplinary art production company that works towards connecting artists and collecting POC stories for production on stage. She is a 2015 Lambda Literary Emerging Writer Fellow and 2015 Jack Straw Fellow. Her book Twisted Oak is available on Requiem Press and her second collection Beloved:Collision is available via Amazon.