Lit Crawl 2018 | Old Hugo House: An Evening with Frances McCue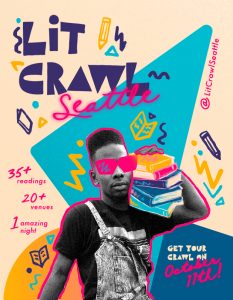 Frances McCue and Cali Kopczick have unfinished business with Hugo House. While filming an event for their documentary about the literary center (which McCue co-founded and where she served as inaugural executive director) the building's so-called "pigeon tomb" flooded, sending water cascading into the cabaret and light fixtures tumbling into the laps of audience members. Now, the duo will finish the event they started, sharing clips and insights from the forthcoming film, Where the House Was, along the way.
Your Hosts:
Frances McCue is an award-winning poet, essayist, educator, and arts instigator. From 1996 to 2006, she was the founding director of Richard Hugo House, and most recently she wrote and executive produced Where The House Was, a documentary about the organization's early days. She is the author of six books, including The Bled, which won the 2011 Washington State Book Award, and Timber Curtain, a finalist for the 2018 Washington State Book Award written as a companion to Where the House Was. McCue currently serves on the faculty of the English department at the University of Washington.
Cali Kopczick is the production manager and story editor for Where the House Was and the editor-at-large for Chin Music Press. She is the recipient of the Joan Grayston Poetry Prize, the Charlotte Paul Reese Fiction Award, and a Vermont Studio Center residency. Her work has appeared in The Offing, the Ghosts of Seattle Past anthology, The Birds We Piled Loosely, and elsewhere.