Novel Nights: Faster by Neal Bascomb
Join us for our fall fundraiser, Novel Nights! At this event, award-winning author Neal Bascomb will speak about his latest book, Faster, with fellow writer Garth Stein and car expert Fred Russell. This event will be held virtually.
Tickets:
$25 for general admission
$75 for admission plus a signed copy of the book
This event takes place in Pacific Time. Tickets can be purchased at the bottom of the page.
---
About Faster

They were the unlikeliest of heroes. Rene Dreyfus, a former top driver on the international racecar circuit, had been banned from the best European teams—and fastest cars—by the mid-1930s because of his Jewish heritage. Charles Weiffenbach, head of the down-on-its-luck automaker Delahaye, was desperately trying to save his company as the world teetered toward the brink. And Lucy Schell, the adventurous daughter of an American multi-millionaire, yearned to reclaim the glory of her rally-driving days.
As Nazi Germany launched its campaign of racial terror and pushed the world toward war, these three misfits banded together to challenge Hitler's dominance at the apex of motorsport: the Grand Prix. Their quest for redemption culminated in a remarkable race that is still talked about in racing circles to this day—but which, soon after it ended, Hitler attempted to completely erase from history.
Bringing to life this glamorous era and the sport that defined it, Faster chronicles one of the most inspiring, death-defying upsets of all time: a symbolic blow against the Nazis during history's darkest hour.
---
About the Author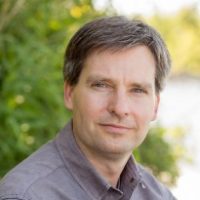 Neal Bascomb is a national award-winning and New York Times bestselling author of a number of books, all nonfiction narratives, all focused on inspiring stories of adventure or achievement. His work has been translated into over 15 languages, featured in several documentaries, and optioned for major film and television projects.
---
About Novel Nights
Part book club, part celebration: a novel approach to the literary salon.
We write because we were readers first—and our love of reading great literature is what sustains us through long, lonely hours at the writing desk.
But books don't exist only in the solitude of our minds; they come alive in the conversations we have about them.
At Novel Nights, you'll delve into the depths of books in the company of fellow book-lovers and friends—all while supporting Hugo House. To see a full list of all the Novel Nights events or buy a series pass, click here.
Novel Nights is sponsored by Anne and Geof Barker, DeNoma Literary Services, and The Elliott Bay Book Company.