Novel Nights: The Boys in the Boat by Daniel James Brown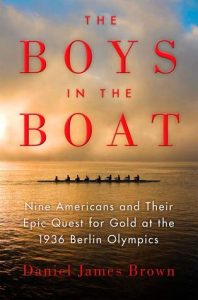 The Boys in the Boat celebrates the 1936 US men's Olympic eight-oar rowing team—nine working-class boys who stormed the rowing world, transformed the sport, and galvanized the attention of millions of Americans.
Join us and author Daniel James Brown for a riveting discussion of the book.
Special Guest: Daniel James Brown
---

---
Part book club, part celebration: a novel approach to the literary salon.
We write because we were readers first—and our love of reading great literature is what sustains us through long, lonely hours at the writing desk.
But books don't exist only in the solitude of our minds; they come alive in the conversations we have about them.
At Novel Nights, you'll delve into the depths of books new and old in the company of fellow book-lovers and friends—all while supporting Hugo House. To see a full list of all the Novel Nights events, click here.