Open Books Series | Children of Grass: B.A. Van Sise's Portrait of American Poetry with Rae Armantrout & Joshua Marie Wilkinson
Join us and Open Books as we celebrate the release of Children of Grass, a collection of stunning and surprising portraits of contemporary poets taken by photographer B.A. Van Sise. Poets Rae Armantrout and Joshua Marie Wilkinson will read their work, and photographer B.A. Van Sise will discuss the book.
About the Book
"In Children of Grass, books fly around Alicia Ostriker like birds, Vijay Seshadri stands on a ladder propped against the air itself, and Mark Doty is growing from the forest floor. B.A. Van Sise's photographs of contemporary poets, paired with their poems, are inspired, playful, and absolutely gorgeous. The word for what this book is, what this book gives me, is pleasure."
—Maggie Smith, author of Good Bones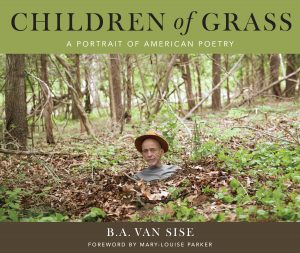 With this fascinating synthesis of word and image, internationally renowned photographer B.A. Van Sise offers a visually stimulating anthology that will enchant lovers of both poetry and photography. At times whimsical, surreal, challenging, enigmatic, joyful and sobering, these portraits— running adjacent to poems by each of their subjects—highlight some of the most influential poets of our time and celebrate creativity as only these poets in collaboration with Van Sise could convey. Children of Grass is also a timely homage to Walt Whitman—of whom Van Sise is a relative—and his masterpiece, "Leaves of Grass," during this, the 200th anniversary of his birth. Children of Grass, will, like the work of its literary grandfather, stand as a lasting tribute to the vitality and creativity that flourishes in our country.
---
More Praise for Children of Grass
"Van Sise's imaginative, creative, and humorous eye reveals the 'person' of the poet and deeper meanings of their poems in ways that sometimes startle, but always feel truthful. That is the purpose of photography and poetry." —David Hume Kennerly, Pulitzer Prize winner and former chief White House photographer

"Why do we desperately need books like this? At least for me, it's because we occasionally need to be reminded that there are still mysteries out there, questions that have no answers. It is nice to be re-introduced to wonder." —Arun Venugopal, WNYC
---
About the Participants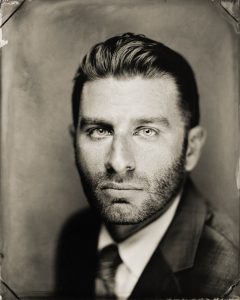 B.A. Van Sise is a photographer, and author of the visual poetry anthology Children of Grass (Schaffner Press, 2019). His visual work has appeared in many major American museum exhibitions; his written work in Poets & Writers, the Southampton Review, and the North American Review.
---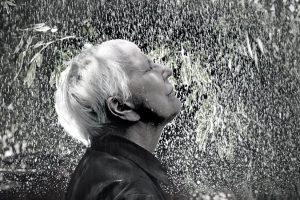 Rae Armantrout's most recent books, Versed (2009), Money Shot (2011), Just Saying (2013), Itself (2015), Partly: New and Selected Poems (2016), and Wobble (2018) were published by Wesleyan University Press. Wobble, a finalist for the 2018 National Book Award, was selected by Library Journal as one of the seven best poetry books of 2018. In 2010 her book Versed won the Pulitzer Prize in Poetry and the National Book Critics Circle Award. Her poems have appeared in many anthologies and journals, including Poetry, the Nation, the New Yorker, Harper's, the Paris Review, Postmodern American Poetry: a Norton Anthology, The Open Door: 100 Poems, and more. She is recently retired from UC San Diego where she was professor of poetry and poetics.
---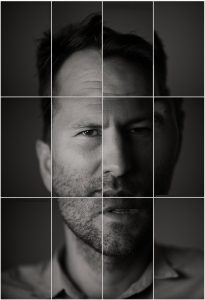 Joshua Marie Wilkinson is the author of eight books, including Meadow Slasher (Black Ocean, 2017) and Swamp Isthmus (Black Ocean, 2013). His work has appeared in Poetry, Tin House, the Believer, PEN/America, and in over a dozen anthologies. Born and raised in Seattle, Josh lives in Mt. Baker with the writer Lisa Wells, where they run a small press called Letter Machine Editions and a poetics journal called The Volta.
---
Related Classes
Joshua Marie Wilkinson will teach Suspenseful Writing on Wednesdays, September 18 – November 20, 5 pm – 7 pm.