Shifting Borders: Placemaking in Speculative Nonfiction
Most people have heard of speculative fiction, but the term "speculative nonfiction" seems paradoxical. However, a growing number of nonfiction writers are interested in the speculative—the impossible, the contradictory, the world not as it is, but as it could be.
In her own work, essayist and 2019 Milton Fellow Rachel Toliver is interested in place, landscape, geography and environment. But place isn't always stable and objective—it's mediated by politics and ideologies. Imagined geographies—especially those related to race and class—blur with objective geographies. When she writes about cities and neighborhoods, she creates unreal places to explore power structures.
She's also interested in the porous relationship between the self and its environments. In states of anxiety or crisis, the line between the self and surroundings can blur. This creates a liminal space where the narrator's experience of her surrounding is a crucial element of an essay's setting.
In this lecture, Toliver will explore some working definitions of "speculative nonfiction," building on the thoughts of writers such as Kiese Laymon, Eve L. Ewing, Carmen Maria Machado, Elissa Washuta, Susanne Paola Antonetta, Lia Purpura, and Lina Ferreira.
She'll provide examples from her own work, discussing the process that led her to her own speculative landscapes. And she'll discuss the uses of speculative nonfiction in an era of "alternative facts"—how the imaginary can be used to expose "alternative facts," making them more concrete and visible.
Since 2016, political discourse in the United States has been dominated by the image of a wall. Speculative place in nonfiction can build a different reality—one where walls are porous, where boundaries are uncertain and shifting.
Presented in partnership with Image journal.
---
About the Speaker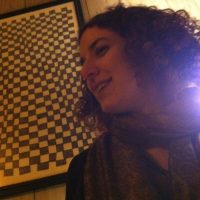 Rachel Toliver's fiction, nonfiction and craft essays have appeared in Mid-American Review, Prairie Schooner, Creative Nonfiction, West Branch, TriQuarterly, Puerto Del Sol, The New Republic, and Brevity. Her short story, "Legion," was the winner of American Literary Review's 2017 fiction contest, and her essay, "My Cartographies," was a Best American Essays 2018 Notable Essay. A winner of the 2017 AWP Intro Journals Project, she holds an MFA in nonfiction from Ohio State University.