Steven Barker: 'Now for the Disappointing Part' Book Launch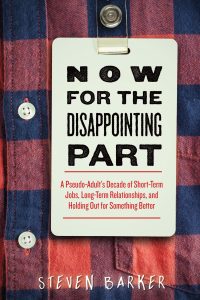 Former Made at Hugo House fellow Steven Barker's debut book, Now for the Disappointing Part: A Pseudo-Adult's Decade of Short-Term Jobs, Long-Term Relationships, and Holding Out for Something Better (Skyhorse Publishing), chronicles his life moving from job to job as his contracts expire.
"A charming page-turner of a memoir…its essays amount to more than just a tale of boxed Mac 'n' Cheese, failed romantic relationships, and miserable short-term jobs. Throughout, Baker crafts a sensitive and principled argument in defense of an undervalued and disposable workforce. The result is an honest, self-aware, and funny tale of millenial malaise." —Suzanne Morrison (YOGA BITCH)
"Steven Barker writes beautifully and hilariously…he is a hero to me and everyone else who refuses to go along with the plan…Now for the Disappointing Part is so damn good."—Dave Hill (Dave Hill Doesn't Live Here Anymore)
Brian McGuigan will lead a Q&A with Barker after the reading, followed by a book signing and performance by The Drop Shadows.
This event is free and the bar will be open.
---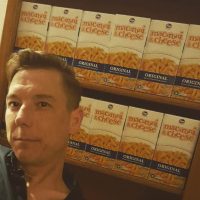 Steven Barker has, in addition to big company temp jobs, worked as a freelance journalist and his essays have appeared in Salon and Split Lip magazine, among others. He lives in Seattle where he cofounded the local reading series Cheap Wine & Poetry and Cheap Beer & Prose. He is the host of the arts and entertainment podcast Ordinary Madness.
---
Brian McGuigan is a writer, performer, and program director at Artist Trust. He is the co-founder and curator of the popular reading series, Cheap Wine & Poetry and Cheap Beer & Prose and has been a part of the Lit Crawl Seattle team for the last three years. He was shortlisted for The Stranger's Genius Award in Literature and City Arts named him one of Seattle's "Power 50 Culture Makers." He's currently working on a memoir about fatherhood. His essays have appeared in Gawker, Salon, The Stranger, The Rumpus, ParentMap, and elsewhere, and he has received support from 4Culture, Artist Trust, and the Office of Arts & Culture. For many years, he ran programs and events at Hugo House.