Where the Horse Takes Wing: a Madeline DeFrees Celebration and Book Launch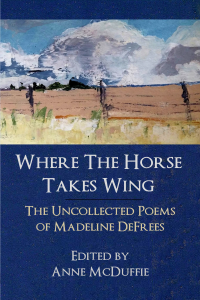 You're invited to a book release party for Where the Horse Takes Wing: The Uncollected Poems of Madeline DeFrees (Two Sylvias Press, 2019). Anastacia-Renee, Susan Rich, Vanessa DeWolf, Abigail Pollokoff, Arianne True, Natasha Kochicheril Moni, and Belle Randall will join editor Anne McDuffie to kick off Madeline DeFrees' centennial year with a reading and celebration.
DeFrees, who died in 2015 at the age of ninety-five, lived multiple, radically different lives and chronicled them all in her work. The poems in Where the Horse Takes Wing span sixty years, from the early, formal poems of a young nun, through her transition to life outside the convent in middle age, to her late meditations on aging. Through it all, she wrote out of fierce vocation, with tremendous craft, compassion, humor, and love.
About the Author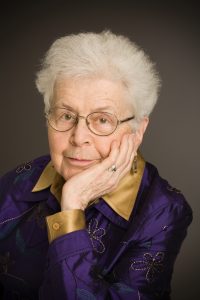 Madeline DeFrees spent thirty-eight years as a Catholic nun in the Congregation of the Sisters of the Holy Names of Jesus and Mary, and received a dispensation from her vows in 1973. She taught at Holy Names College, the University of Montana, and the University of Massachusetts, Amherst. DeFrees published two memoirs, eight poetry collections, numerous essays and stories, and received fellowships from the Guggenheim Foundation and the National Endowment for the Arts. She died in 2015 at the age of 95.
---
Praise for Madeline DeFrees
For Madeline DeFrees, her early cloistered life did not deprive her of experience but intensified her instinct for ordinary moments sprung from silence into poems of revelation…In these uncollected poems from her long career of lyric devotion, her prismatic attention storms our own lives.
—Kim Stafford
The poems of Madeline DeFrees are, like their author, very seriously playful. They have always been that way, as you will see when you read these previously uncollected ones. Of course she loved language; all poets do. But you get the sense, when you come across a passage like "swallows skate in razor turns / across the floodlit afternoons," that the language loved her right back, just as seriously, playfully, and beautifully.
—Robert Wrigley
---
About the Readers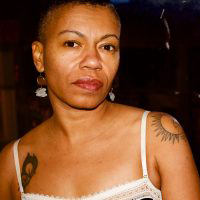 Anastacia-Renee is a multi-genre writer, educator, and interdisciplinary artist. She is the Seattle Civic Poet, recipient of the 2018 James W. Ray Distinguished Artist Award for Washington artists (Artist Trust), 2017 Artist of the Year, and 2015–2017 poet-in-residence at Hugo House. She is the author of five books: Forget It (Black Radish Books), (v.) (Gramma Press), 26 (Dancing Girl Press), Kiss Me Doll Face (Gramma Press), and Answer(Me) (Winged City Chapbooks, Argus Press) and has received writing fellowships and residencies from Cave Canem, Hedgebrook, VONA, Artist Trust, and more. She teaches poetry, creative writing, and "How to be an Effective Ally" workshops at Hugo House, libraries, universities, and high schools.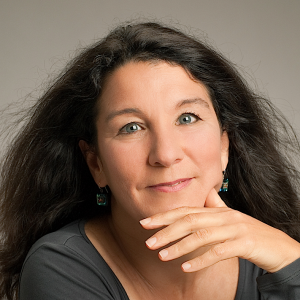 Susan Rich is the author of five books, most recently Cloud Pharmacy (White Pine Press). She is the winner of the PEN USA Award for Poetry and the Times Literary Supplement Award, London. Her poems have been published in 50 states including in the Harvard Review, New England Review, Poetry Northwest, and Western Humanities Review. She is cofounder with Kelli Russell Agodon of Poets on the Coast, an annual writing retreat that takes place in La Conner, Washington, each September. (Photo by Roseanne Olson.)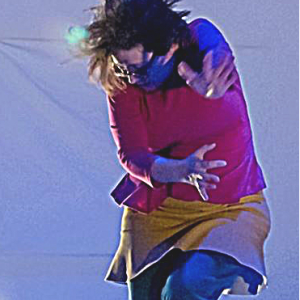 Vanessa DeWolf is a post-disciplinary artist whose performances reside in the intersection of poetry and the body. She founded Studio Current to support artists in their creative process with space and community. She works regularly as a dance-dramaturg, poet, and dancer. She'll be a performing on February 9 at Seattle Improvised Music Festival with an ensemble of extraordinary performers, gathered by Stephanie Skura. She is beginning a new endeavor in 2019; please email plastiqartscreative@gmail.com to receive the newsletter.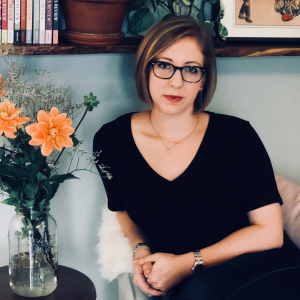 Abi Pollokoff is a Seattle-based writer with work forthcoming from or previously in CutBank, Poetry Northwest, The Spectacle, Black Warrior Review, and Guernica, among others. In fall 2017, she was the writer-in-residence for The Alice. A former reader for the Seattle Review and editor-in-chief of the Tulane Review, she won the 2012 Anselle M. Larson/Academy of American Poets prize for Tulane University. Her MFA is from the University of Washington. Find her at abipollokoff.com.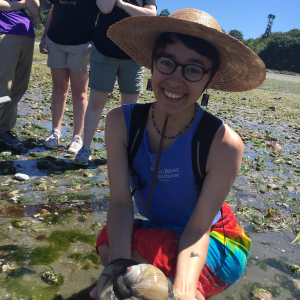 Arianne True (Choctaw, Chickasaw) is a queer poet, folk artist, and teacher from Seattle, and recently earned an MFA from the Institute of American Indian Arts. Arianne has taught with Writers in the Schools and Hugo House, and is a Hedgebrook alum. You can find her work online from the Boston Review, Poetry on Buses, and LitHub.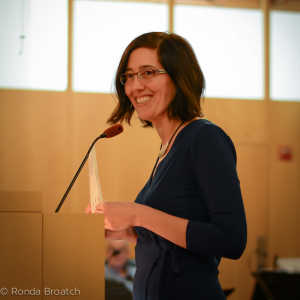 A first-generation American born to native Dutch and Indian parents, Natasha Kochicheril Moni is the author of A Nation (Imagined) (winner of the 2018 Floating Bridge Press Chapbook Contest), Nearly (Dancing Girl Press), Lay Down Your Fleece (Shirt Pocket Press), and The Cardiologist's Daughter (Two Sylvias Press).  (Photo by Rhonda Broach.)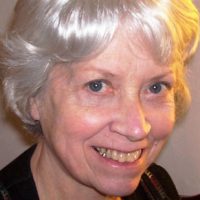 Born in Ellensburg, Washington, poet Belle Randall earned a BA at the University of California Berkeley, an MA at Stanford University, and a second MA at the University of Washington. She is the author of the poetry collections 101 Different Ways of Playing Solitaire and Other Poems (1973) and The Coast Starlight (2010). She coedited Exploding Flowers: Selected Poems of Luis Garcia (2004) with Richard Denner. Her honors include a Wallace Stegner Fellowship at Stanford University, Poetry's Inez Boulton Award, Waywiser Press's Anthony Hecht Prize, and a fellowship from the National Endowment for the Arts. Founding poetry editor of the interdisciplinary journal Common Knowledge, Randall lives in Seattle, where she has taught at Cornish College of the Arts and in the University of Washington extension program.
---
About the Editor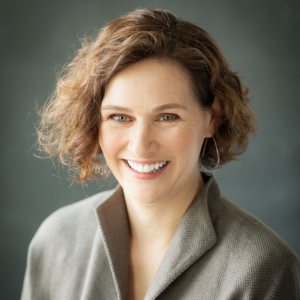 Anne McDuffie writes essays, poetry, and reviews. She holds an MFA from the Rainier Writing Workshop at Pacific Lutheran University, and was awarded a 2011 Jack Straw fellowship and a 2012 Individual Artist Projects grant from 4Culture. Anne began assisting poet Madeline DeFrees in 2007 and became her literary executrix after her death in 2015. She organized Ms. DeFrees' literary papers for donation to the University of Massachusetts, Amherst, Libraries, and edited two collections of Ms. DeFrees' work, Subjective Geography: A Poet's Thoughts on Life and Craft (essays) and Where the Horse Takes Wing: The Uncollected Poems of Madeline DeFrees. She maintains a website dedicated to Ms. DeFrees' work at www.madelinedefrees.com. (Photo by Roseanne Olson.)