Write with Hugo House with Brett Hamil
In this group, writers introduce themselves, talk about their writing and discuss an evocative opening topic. They are given a prompt and 20-30 minutes of silent writing time, with the opportunity to read what they wrote in a mutually supportive, welcoming environment.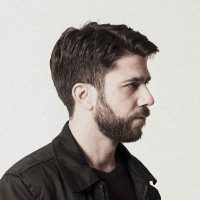 Brett Hamil is a writer, cartoonist and performer in South Seattle. He's the coproducer of Joketellers Union and the host of the Seattle Process. The Seattle Weekly once called him "the city's premier political comic."
---
About Write with Hugo House (in partnership with the Seattle Public Library)
Write with Hugo House is a free drop-in writing circle for all ages and genres of writing. Bring something you're working on, or just come ready to write. You will have the opportunity to share your work and get feedback—but only if you want to (no pressure). You can also use this time to increase productivity on your current work in progress, surrounded by fellow writers. Learn more >
The Library fully complies with the Americans with Disabilities Act (ADA) and provides accommodations by request for physical and virtual access to library programs, services, and other needs to ensure these resources are available to people with disabilities. Please contact leap@spl.org, at least 7 calendar days in advance to request an accommodation.